Shades of Blue pilot Willie Daniels visits Rock Canyon
March 1, 2013
/
/
Comments Off

on Shades of Blue pilot Willie Daniels visits Rock Canyon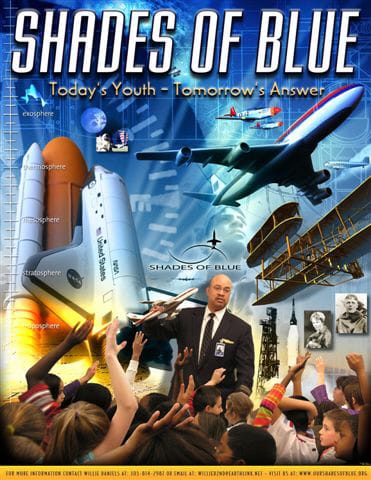 By Lisa Nicklanovich; photo courtesy of Shades of Blue
Castle Pines Resident and pilot Willie Daniels visited Rock Canyon High School (RCHS) recently to encourage students to explore the field of aviation as well as pursue studies in science, technology, engineering, and math (STEM) fields.
Daniels is a graduate from the Aviation program at Metro State University of Denver and a United Airlines pilot for 34 years. As the founder and president of Shades of Blue, a non-profit educational organization comprised of pilots, educators and business leaders, Daniels is focused on "providing students with access to role models and resources that can help them connect the dots with what they are learning in school to what career opportunities exist."
In his presentation, Daniels explained that aerospace careers will be in high demand in the near future as older pilots and astronauts reach retirement. He stated, "Colorado is a golden opportunity for STEM students since it's the second largest aerospace community in the nation." Boeing, Lockheed Martin, United Launch Alliance, and Raytheon are all close by, providing abundant opportunities for students who are interested in aviation and aerospace. Daniels said students can join Shades of Blue now to learn more through "ground school," receive mentoring and internship opportunities, and even employment assistance later on.
As Daniels answered questions and gave out Shades of Blue flyers, one student remarked, "I wasn't thinking about a career in aviation before, but now I am considering it." For more information, go to www.ourshadesofblue.org.