Sharing joy, peace and love across the globe
September 1, 2017
/
/
Comments Off

on Sharing joy, peace and love across the globe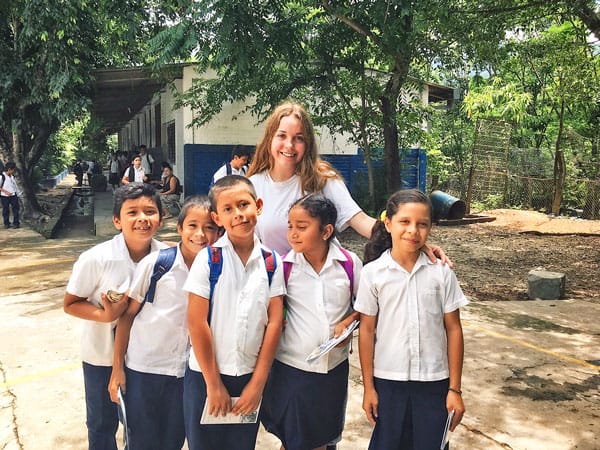 Casidee Gonzales with some of the students at a small village in the mountains of El Savador. "I asked to take a picture with one of them and the other four ran up to join us, they were so excited," she laughed.
By Patte Smith; photos courtesy of Casidee Gonzales
Casidee Gonzales had an experience of a lifetime that she emphatically states transformed her forever. A junior at Rock Canyon High School, she traveled to San Salvador, the capital city of El Salvador, to reach out and help local residents. "It was the happiest I had ever been in my life, my anxiety was completely eradicated, and I felt more joy, peace, and love than I had in my whole life," said Gonzales.
Organized by Jubilee Fellowship in partnership with Victorious Christian Harvesters, Gonzales was somewhat fearful of the experience of traveling to an unfamiliar place. She readily admits that the meetings beforehand were a little nerve-wracking but she found herself connecting with fellow high schoolers and making friends with the middle school kids who were going as well. As the trip grew closer, she became more excited and on the airplane she was filled with anticipation.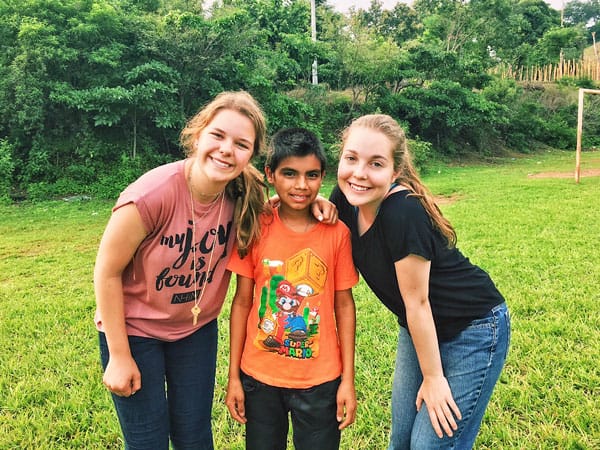 "When we got there we woke up early each day, had breakfast (with some of the saltiest beans ever created) and then we were off on the bus with our driver, Mario," explained Gonzales. "He is the only person I have ever known that can parallel park a bus, and we all adored him."
José happily welcomed Lauren Flemming (left) and Casidee Gonzales (right), two of the teens who traveled to El Salvador to his very green and lush village.
The group traveled to several communities or schools each day and mingled with the locals, especially the children. To engage the people in the community, they would dance and do fun games in order to have the local people gather around them. After attracting their audience, the group performed expressive skits that called awareness to Jesus' healing powers over evil. The teens also moved among the locals, praying with them while practicing their Spanish with the help of El Salvadoran translators, passing out beans and rice, Bibles for adults and Bible stories to the children.
"I was part of the food team," smiled Gonzales. "Our team had to make 30 PB&J sandwiches between some locations, so as fast as we could, we plopped jelly and peanut butter on bread."
"At the end of the day at dinner we all laughed and joked telling about our day. We did this every evening – it was amazing. The day before we left, we got a beach day to relax, have fun and see the ocean. It was beautiful."
Quoting from Gonzales' journal, she wrote: "As we all walked towards the bus to leave, I studied all of the poor, humble people who had come to watch a group of Americans perform, pray and preach. They were all so happy, so loving and so kind, even though they live in poverty. It was amazing. The friendships I formed with the people and new friends from church are unbreakable and valuable to me. El Salvador transformed me. It was and is the best experience of my life and I would go back in a heartbeat."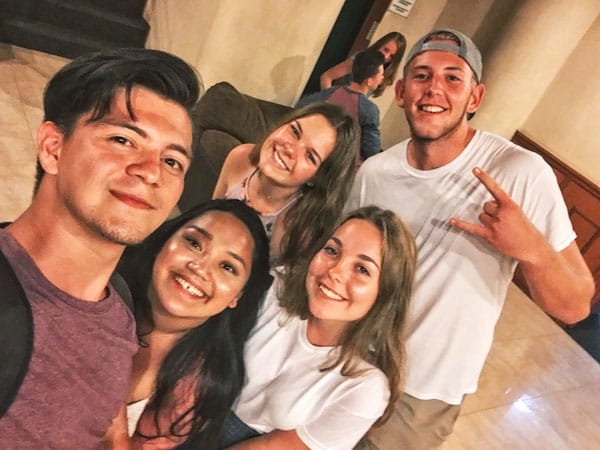 Friends gathered on the last day at the hotel to say goodbye. "My eyes had black under them from my running mascara," said Gonzales. Pictured in the back are Lauren Flemming and Blake Frederickson. Front left to right: The group's Salvadoran friend, Josué, Hunter Reyes and Gonzales.