Sheriff Appointed to the Douglas County Educational Foundation Board of Trustees
February 1, 2010
/
/
Comments Off

on Sheriff Appointed to the Douglas County Educational Foundation Board of Trustees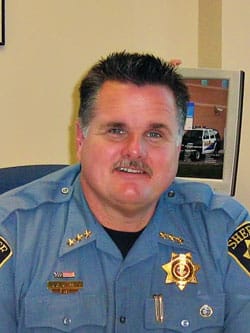 Sheriff David A. Weaver
submitted by Deputy Cocha Heyden
Public Information Officer
Douglas County Sheriff's Office
Whei Wong
Douglas County
Educational Foundation
At the January 28th board meeting of the Douglas County Educational Foundation, Sheriff David A. Weaver was unanimously approved to serve on the Board as one of the Trustee Members.
"Our School District Board of Education and the DCEF's Board of Trustees are really focused on community engagement," says Sean McGraw, executive director, Douglas County Educational Foundation. "We are looking forward to working with Sheriff Weaver to continue to build relationships within Douglas County to benefit our community's students."
"As the Sheriff, I feel a special obligation to the kids within Douglas County. It is extremely important that we, as law enforcement officers, bring our public safety objective to these kids and make sure they have the tools necessary to be safe in and out of school. Being part of the Education Foundation is an honor and will only increase the ability to make sure we are doing our part to help the schools, teachers, kids, parents and community," stated Sheriff Weaver.
The Douglas County Educational Foundation (DCEF) was created in June of 1990. The purpose of the Douglas County Educational Foundation is to develop private resources to enrich education within Douglas County schools for the fulfillment of lifelong learning experiences of our students, citizens and community.
Sheriff Weaver has served as the Sheriff of Douglas County since 2006, but has been with the Office since 1981. He has seen not only the population increase in Douglas County, but also the tremendous growth within the school district. He has been instrumental in making sure that the law enforcement presence in the schools has been positive and educational. He helped bring the Text–A-Tip program to the high schools, which utilizes the same technology as Crime Stoppers, allowing a student to send a text message in real time to the Douglas County Schools and local law enforcement on important school concerns such as in progress criminal events.