South Metro Fire Rescue Authority changes command
November 1, 2014
/
/
Comments Off

on South Metro Fire Rescue Authority changes command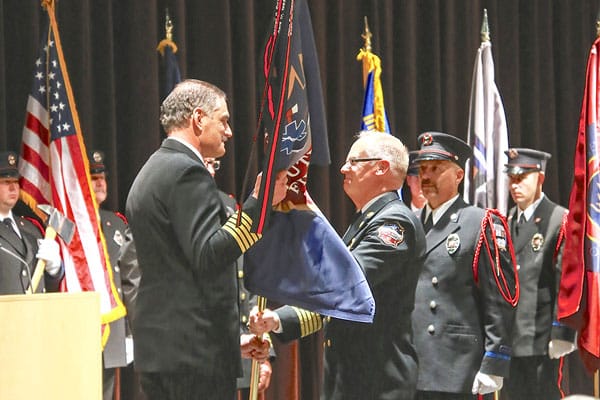 As part of the Change of Command Ceremony, former Chief Qualman (right) presents Chief Baker (left) with the South Metro Fire Rescue Authority flag.
Submitted by South Metro Fire Rescue Authority
For the first time in the history of the South Metro Fire Rescue Authority, a Change of Command Ceremony was held on October 16 to mark the retiring of Fire Chief Dan Qualman and the beginning of command for Fire Chief Bob Baker.
The Change of Command Ceremony is steeped in more than 250 years of history, both in the fire service and the military. In the fire service, assuming command of the organization means taking responsibility for the well-being, safety, and protection of the citizens in the district and the members of the department. Moreover, assuming command means a responsibility to ensure the members of the organization that respond to emergencies are provided everything needed to perform their jobs to the best of their ability, and return home safely to their families.
After a 36-year career in the fire service, Qualman turned over the reins of leadership of the department to former assistant chief of operations Baker. Baker began his career in the fire service at the Parker Fire Protection District as a firefighter in 1984 and served in several capacities since then including: engineer, lieutenant, shift commander, and battalion chief.
Baker has been a chief officer since 1990 and also served as Parker Fire District's training chief from 1994 to 1997 and the administration chief from 2002 until 2004. He was instrumental in ensuring the successful consolidation of the Parker Fire District and South Metro Fire Rescue into an Authority in 2008.
His educational background includes an associate's degree in Fire Science from Red Rocks Community College, a bachelor's degree in Management from Bellevue University, an academic certification in Public Policy and Administration from the University of Colorado, and a master's degree in Executive Leadership from Grand Canyon University.
Baker is a graduate of the Executive Fire Officer Program at the National Fire Academy in Emmitsburg, MD, Leadership Douglas County, the Rocky Mountain Leadership Program, and was awarded the professional designation of Chief Fire Officer (CFO) through the Center for Public Safety Excellence. He was re-designated on March 10 as CFO. He has his Fire Officer III certification and he recently attained "member" status with the Institution of Fire Engineers (IFE).
Baker is married to Denise and they have two sons – Robert and Ben, one daughter – Christina, and two grandchildren.
The men and women of the South Metro Fire Rescue Authority provide fire suppression, emergency medical, building protection, life safety training, and other specialized rescue operations and services to the citizens of Castle Pines and other unincorporated portions of Douglas County, including Castle Pines Village. For additional information, visit www.southmetro.org.