Special needs movie night at RCHS
February 1, 2018
/
/
Comments Off

on Special needs movie night at RCHS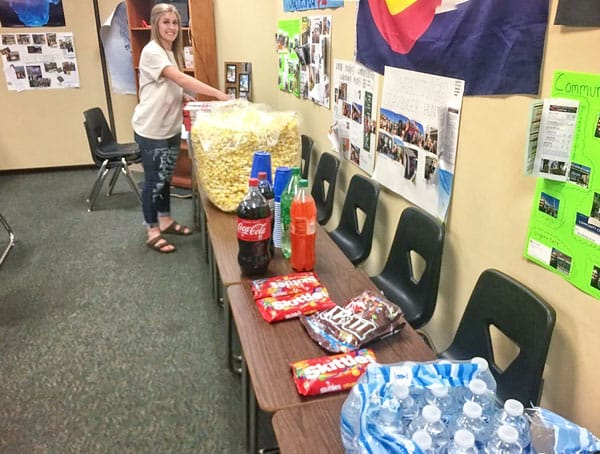 RCHS student and Castle Pines resident Kira Deal setting up for the movie night for students with disabilities. The event was a senior studies project designed to make a difference in the community.

By Jack Hibbett, RCHS intern writer; photo courtesy of Kira Deal
In the unique class of senior studies at Rock Canyon High School (RCHS), seniors were given a mission — to make a difference in the community with a project that positively impacts Douglas County residents. One student and Castle Pines resident, Kira Deal, saw a problem in our community, and for her project, she and a few peers organized a movie night for people with disabilities.
One member of their group, Maren Clark, works at a cafe in downtown Castle Rock alongside young adults with special needs from Wellspring Community. Clark was the one who originally came up with the idea of bringing elementary, middle and high school kids with disabilities together in a closed, safe and fun environment.
"We have seen how the students of the special needs community are generally overlooked when it comes to not being recognized as often as their needs should be. So, we targeted elementary, middle and high school students for this project, so we could help them make some friends they don't necessarily see everyday in school, and so they could know that they have people in the community who support them and recognize what most people don't see in them."
Overall, if any number of people showed up to this project it would be deemed a success, so when they saw seven different families show up from around the community, they were excited to help those families have the best night possible. The families consisted of three elementary-aged students and their parents, along with four high school-aged students and their guardians. They all had a blast as parents and students alike were happy that they were given the opportunity to hang out with peers just like them. Students could meet kids they wouldn't normally see at school and build friendships, while parents could talk to each other about the ups and downs of raising their child and gain helpful advice through the experience.
The RCHS students did not know what to expect when they set up this movie night, yet when seeing the joy on the students' faces, they realized that their senior studies project was a success. When looking to make a positive difference in your community, take it from these kids; find a real problem, then create a solution and implement it, one step at a time.