Spring frost impacts trees
June 1, 2020
/
/
Comments Off

on Spring frost impacts trees
By Patte Smith; photos courtesy of Craig Miller, CPNMD Parks & Open Space manager
Communities throughout Douglas and Elbert counties, as well as other areas of Colorado are worried about the brown trees, evergreens and shrubs that look like they are dying. Readers take heart and do not dig up or cut down your trees or shrubs just yet. These trees, evergreens and shrubs are more than likely showing frost damage from severe temperature fluctuations that we experienced last October and this past April.
Castle Pines North Metro District Parks & Open Space Manager Craig Miller shared these photos and descriptions of trees and shrubs with frost damage from his yard in Parker.
"A photo of a Mops Mugo Pines (above) shows the yellow-brown color of frozen needles," Miller explained. "The other photo shows what is known as 'candle growth' that will shortly expand into new green needles. The branches of the pine are flexible and have not dried out. The damaged needles will eventually drop off after a season or possibly longer, and new growth will cover the bare spots."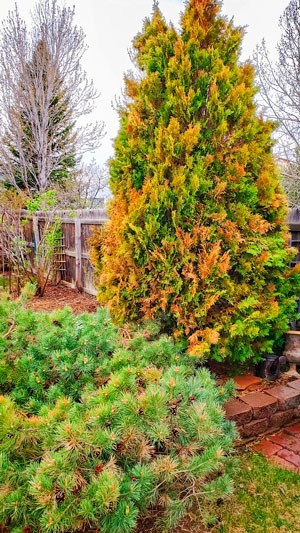 Another photo of Miller's Golden Arborvitae (above) shows brown fronds that look dead from the freeze in October 2019 and the area's hard freezes this past April. "This tree will eventually grow and cover the damage," stated Miller. "It could take from 3 to 5 years for it to look like it did before the winter burn."
"Patience is what gardeners need this year to see if trees, evergreens and shrubs will show new and healthy growth. Never give up and if you are in doubt, residents should contact an ISA Certified Arborist," emphasizes Miller.
For more information about the winter burn of trees and shrubs, visit https://csfs.colostate.edu/2020/4/26/ponderosa-pines-spruce-may-exhibit-winter-burn-damage/. For contact information for an ISA Certified Arborist, contact https://isarmc.org/Find_a_Certified_Arborist.