SR-71 Pilot Brian Shul guest speaker at sister's fundraiser
October 1, 2011
/
/
Comments Off

on SR-71 Pilot Brian Shul guest speaker at sister's fundraiser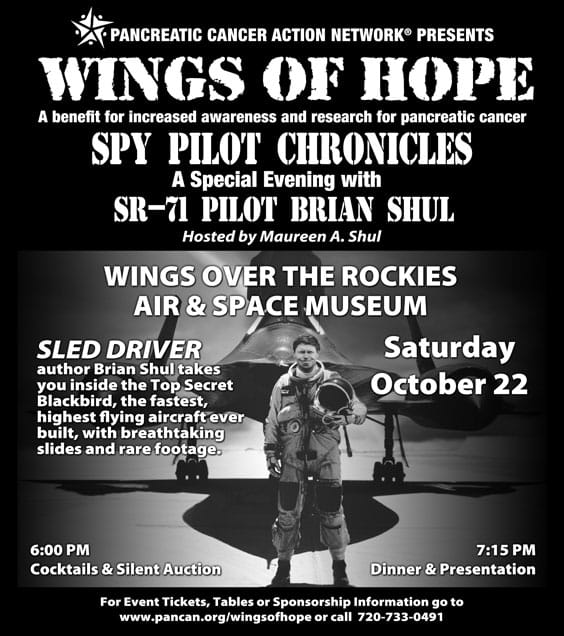 Provided by and space purchased by the Pancreatic Cancer Action Network
Wings of Hope, a benefit for increased awareness and research for pancreatic cancer, will have as its special guest speaker SR-71 Pilot Brian Shul, author of the nationally acclaimed "Sled Driver."
A highly sought and renowned speaker throughout the country, Brian Shul will share his inspiring story of being shot down over Vietnam, left for dead, only to go on to fly the top secret 'Blackbird,' the world's highest, fastest and most extraordinary aircraft ever built, with breathtaking slides and rare video footage.
Wings of Hope is being organized and hosted by Maureen Shul in honor of her mother, Blanche, and brother, Victor, whom she and her brother, Brian, lost to pancreatic cancer in the last two years. Maureen Shul, one of the founders and first mayor of the City of Castle Pines, was constantly at Victor's side in Seattle from the time of his diagnosis until his courageous battle with the disease ended in mid 2009.
Just months after losing her brother, Shul's mother was diagnosed with pancreatic cancer, this in addition to the Alzheimer's disease she had been battling and diagnosed with eight years earlier. Three months later, in January 2010, Blanche Shul passed away from pancreatic cancer, never cognizant of the fact that her son had succumbed to the same relentless disease just months earlier.
Propelled by grief and a desire to honor her brother and mother, Maureen Shul would like Wings of Hope to help raise awareness and increased research funding to fight pancreatic cancer. "When you suffer through losses this profound, your life takes on an entirely new direction and you are compelled to honor your loved ones in ways that will result in more awareness, resources and funding to help the many others whose lives have been or will be impacted by this horrific disease," Maureen Shul stated.
The event is being sponsored by the Pancreatic Cancer Action Network, a national organization creating hope through research, patient support, community outreach and advocacy for a cure.
Wings of Hope will be held Saturday, October 22, 6 pm at Wings Over the Rockies Air & Space Museum. Tickets are $100.
To purchase tickets, be a sponsor, or to learn more about this event, go to www.pancan.org/wingsofhope.