State Senate introduces bill for passenger rail district
May 1, 2021
/
/
Comments Off

on State Senate introduces bill for passenger rail district
By Chris Michlewicz; courtesy graphic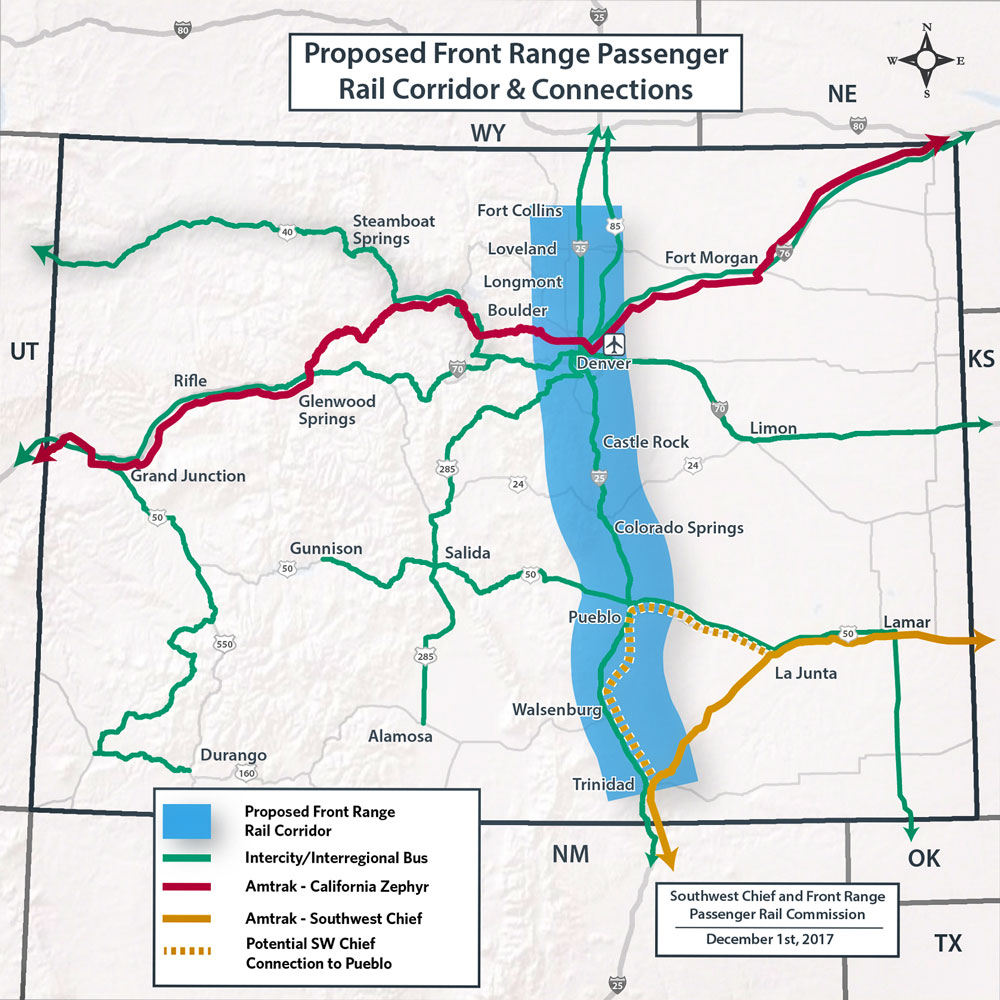 State legislators have introduced a bipartisan bill that would create a new transportation district for a passenger rail line along the Front Range.
Thirteen counties, including Douglas, could be affected by the proposed Front Range Passenger Rail District, an entity that would plan, design, develop, finance, construct and maintain the rail line, according to Senate Bill 21-238.
Several key details have not been finalized, including the alignment for the high-speed railway, estimated costs of construction, funding sources, and the service operator. However, Amtrak and BNSF Railway have expressed a willingness to partner on a Front Range rail service.
One proposed track alignment would run parallel with I-25 on the east side of the highway, and that has gotten the attention of residents in unincorporated areas of Douglas County, including Happy Canyon and Surrey Ridge. They've expressed concerns about potential impacts, including noise, environmental issues, costs and public safety.
The bill requires the district to "work collaboratively with the Regional Transportation District (RTD) to ensure interconnectivity," and it's possible that the operator could use existing tracks currently used by RTD and freight trains, including rail lines that run alongside U.S. 85/Santa Fe Drive.
A commission official said in November 2020 that federal and state funding would help pay for the railway and ongoing maintenance, but it's unclear whether additional funding would be derived from sales tax, boarding tax, lodging tax or vehicle registration tax. The bill expressly states that the establishment of any tax must first be approved by voters within the boundaries of the proposed district.
Proponents say passenger rail service would greatly reduce the growing demand on the Front Range's road system.
To learn more about the proposed routes, see our story in the December 2020 issue of The Connection (https://www.castlepinesconnection.com/could-passenger-rail-service-pass-through-douglas-county/).