Steve and Laura Durie; the perfect blend
February 1, 2018
/
/
Comments Off

on Steve and Laura Durie; the perfect blend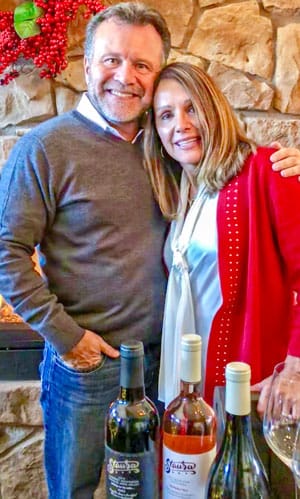 Article and photo by Nancy Koontz
Blending a family is like blending a fine wine. Both require patience, passion and love, and both have been the focus for Steve and Laura Durie since they met three-and-a-half years ago.
It was match.com that brought the singles together for lunch; a lunch that would last seven hours and change their lives forever. One year from the day they met, at 11:11 a.m., the couple married, and their new journey began. The couple agrees that they met at "the perfect time" in their lives.
Blending the family: Laura has two adult children, a son Tommy (31) with special needs and a daughter Megan (28), who is married with a 15-month-old son, Jahkaiah. Steve has two boys, Garret (20) who is a student at CSU with aspirations of becoming a musical conductor, and McGregor (17) who is a senior attending Rock Canyon High School. According to Laura, Garret and McGregor have really taken to Tommy and they get along very well. "There is so much love in our family," she said.
The Duries split their time between their homes in Castle Pines and Florida and manage to travel to Napa, California at least six times a year for their wine business.
Blending the wine: Napa is home to Staura Boutique Wines, a product of 1111 Cellars, LLC. The name 1111 Cellars, LLC was inspired by the time of day the Duries were married and Staura stems from a blending of the names Steve + Laura and came about because of the couple's mutual love of wine. Steve had wanted to start a winery since before he was of drinking age and became even more passionate about it when Laura came into his life. Now a level 2 sommelier, Steve said, "The winery bloomed out of our love, and all our wines are named after something meaningful in our relationship ['The Perfect Time,' '7 Hour Lunch,' and 'Infinity on its side.'] The winery was an anniversary gift to each other, and Staura has grown into a perfected wine operation."
There is no distribution, just direct sales to their 80+ membership wine club customers. The boutique wines are made in the French style, and the grapes are sourced from the finest vineyards in Napa.
"We are blessed with getting to know the most amazing folks through the wine industry, and we have great conversations with the many people we meet in the Napa tasting rooms; many have become good friends," said Steve. "There were many fundraisers organized for the people affected by the fires in Napa; we were fortunate because our grapes were picked before the fires."
Blending both: Ten percent of Staura sales go back to helping mental health organizations, a cause close to their hearts and their family. The Duries are very active with the Tim Tebow Foundation, which holds a "Night to Shine" on Valentine's Day every year. The event is a unique prom experience for individuals 14 and older with special needs and will be held at West Bowles Community Church in Littleton this year (westbowleschurch.com/a-night-to-shine/). In 2017, 375 locations in all 50 states and 11 countries hosted simultaneous proms celebrating these special individuals.
Crafting wine with a "passion and a purpose" and with their heart for helping others, Steve and Laura put their love and dedication into every bottle of wine they make. For more information on the Duries and Staura Boutique Wines, visit www.stauracellars.com.