Student leaders growing through empowerment retreats
February 1, 2015
/
/
Comments Off

on Student leaders growing through empowerment retreats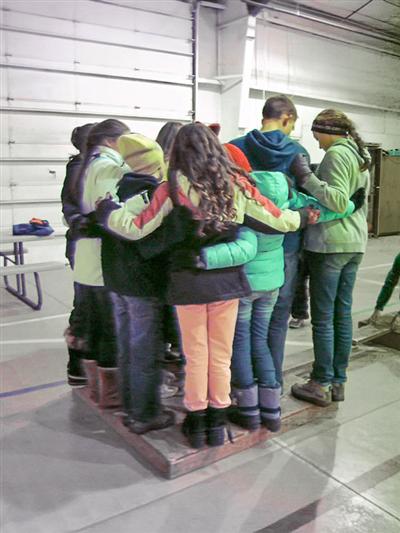 At a recent co-ed middle school leadership retreat, students participate in a team building exercise. The Douglas County sheriff department and DCSD partner to offer empowerment retreats which are having a significant impact on school culture throughout the district.
By Lisa Nicklanovich; photo courtesy of DCSD
In addition to attending school, hundreds of Douglas County School District (DCSD) students have had the opportunity to attend free workshops that focus on building leadership skills students can bring back to their school. The Douglas County Sheriff's Office safety and education officers and the DCSD student wellness department work together to offer empowerment retreats that are growing in numbers as well as impact.
Staci McCormack, Prevention and School Culture Coordinator for DCSD, facilitates co-ed and female high school retreats as well as female middle school and fifth and sixth grade retreats at the Douglas County Outdoor Education Center in Larkspur. The forested site was gifted to the school district by the county and provides a true get-away experience for students.
Of one elementary school retreat, McCormack said, "An entire class came out for a day experience to work out some conflicts which were impacting the students desire to be at school, to access the curriculum, and even parent relations. After the retreat, which focused on conflict resolution, team building and our 'three Es': enlightenment, empathy and empowerment, the conflict was gone. Now, these students are leaders for the lower grades."
Cyndi Redfern, retreat assistant for DCSD, said, "A group of middle school student leaders came into a retreat feeling confident in their leadership abilities as well as feeling they were already enlightened, empathetic and empowered. At the retreat, they had a huge realization; they learned leadership means coming out of the box and helping others, seeking others' voices, not just taking charge." This group is now working with their school's administration to create a three-year sustainable plan, a kindness campaign, that spreads messages of hope and strength throughout the school.
The common goal of all the retreats is to change perspective and develop the three Es to be sources of change. At a recent co-ed high school retreat, leaders of two groups of students went from being very divided to pushing their lunch tables together the day after the retreat, even saying they felt like family. McCormack said, "These tools empower a student not only in school, but it can carry into any aspect of their life."
In addition to the many relational activities, retreats also have an adventure element, such as a zip line, high ropes course, or snowshoeing, which "get us out of our comfort zone, where real change happens," said McCormack.
Upcoming retreats are February 27-28 (high school females), March 26-27 (fifth and sixth grade co-ed) and are free for Douglas County students. For more information, visit https://sites.google.com/a/dcsdk12.org/empowerment-retreats/ and watch the YouTube video with student testimonials. For registration, contact Cyndi Redfern at Cynthia.Redfern@dcsdk12.org. One participant said, "If you don't go, you're missing out!"