July 1, 2018
/
/
Comments Off

on Success at the Diamond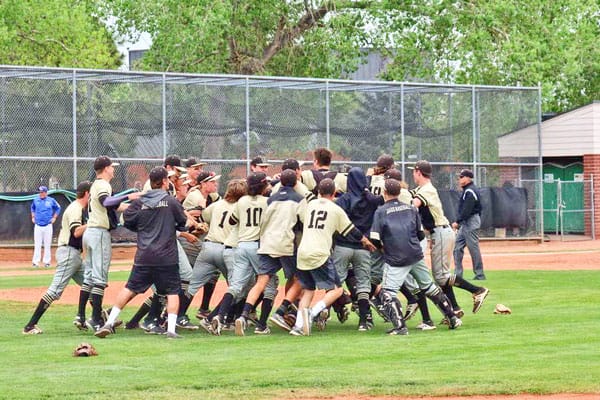 Rock Canyon varsity baseball players charge the mound after a come-from-behind victory against Cherry Creek High School to reach the Elite Eight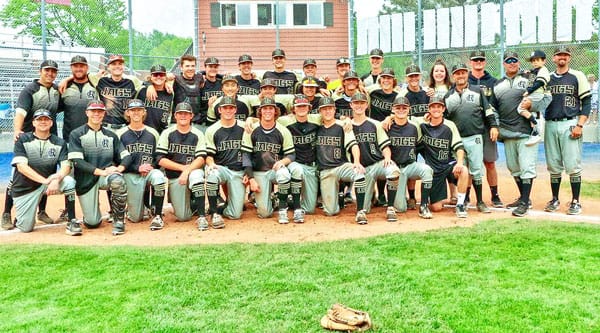 By RCHS intern writer Alec Sutula; photo courtesy of Josh Terry
The Rock Canyon High School (RCHS) baseball team had a very successful season this year under first-year head coach, Garrett Duman. The team finished 11-12 overall, 3-7 in the league and a Colorado ranking of 39.
"Our season went great. I had a ton of fun with all of my teammates," RCHS junior Josh Terry said. The team had a very impressive win over Cherry Creek High School to move on to the Elite Eight in the playoffs. "That [advancing] was definitely one of my favorite moments from the season; we really bonded as a team and came together to come back and win the game," Terry said. With that very impressive win, the team then won regionals and qualified for state playoffs, where they were knocked out in the first round after double elimination.
A very important piece to many teams is to always have good depth, so if someone gets hurt, someone equally as talented can step up and give it their all. Sophomore Nick Niemann, an 80108 resident, said, "My favorite thing from last year was the amount of skill we had in each position. We would have players second or even third string in all positions, and any of them could have a lot of success."
If you look at all of the successful teams in professional sports – like the New England Patriots or the Golden State Warriors, a strong team mentality is what prevails in the late stages of games. "From this season, I learned there is more to a team than the players on the field," Niemann said. "Everybody has a job, from the coaches to the bench, and each person is there to support and help the ones on the field to perform their best."
Even with all the excitement in seasons, there are always hard times seeing the seniors depart for a new beginning. "I'm going to miss the energy the seniors all brought to the team. Each player had a way to pick up and ready the other players," Niemann said.
From the start of fall ball to the playoffs, each young player puts in countless hours in the weight room and on the field. It is going to be very exciting as a student to go and see what this team, with a year under their new head coach, can accomplish.