The Bibliophiliac's Corner: "The Bedlam Stacks"
September 1, 2017
/
/
Comments Off

on The Bibliophiliac's Corner: "The Bedlam Stacks"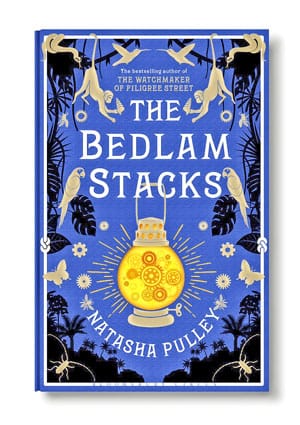 |
By Amanda Merriman
Connection writer Amanda Merriman admits she is hopelessly addicted to books. It has been this way nearly all her life. Every month she shares what she has been reading with the hope that others will share in the obsession too.
Natasha Pulley's novel, "The Bedlam Stacks" was released on August 1. It is Pulley's second book and is a prequel to her debut, "The Watchmaker of Filigree Street." That being said, I do not think you have to read the first novel in order to understand the second.
It took awhile to get into this book, though there were many appealing facets that made me choose it in the first place. This historical fantasy is set in the mid-1800s around a small and mysterious village nestled deep in the forests of Peru. Readers are introduced to Merrick, an aging and injured man searching for his purpose in life. Things take a turn when he is tapped by the India Office to smuggle Cinchona trees (which are used to produce quinine) out of Peru. Merrick accepts the assignment and proceeds with the greatest adventure of his life. The story builds over time and has a beautiful quality to it. Further into the book, Pulley notches up the tension, history, unexpected relationships and magic.
As I mentioned, it was hard to dive into the book at first. I had to reread parts in the beginning in order to connect to the storyline and characters. Once Merrick began his adventure, I became more enchanted with reading about Peruvian history and way of life. I also enjoyed how the book highlighted the relationship between different cultures and linguistics and how this affects perception. At times, the magical elements may have been too numerous, but Pulley's writing style kept me going. Readers who can muscle through the beginning of the book might find themselves wrapped up in the mystical world of Bedlam and enjoying the story unfold.
Fellow bibliophiles and book club members, feel free to join in the dialogue. Blog your thoughts and feedback at www.castlepinesconnection.com and enter the keyword "bibliophiliac" in the search bar. Have you read a great book recently? Email your find to me at amerriman@castlepinesconnection.com.