The first family of Happy Canyon (Part 2; continued from last month)
May 1, 2017
/
/
Comments Off

on The first family of Happy Canyon (Part 2; continued from last month)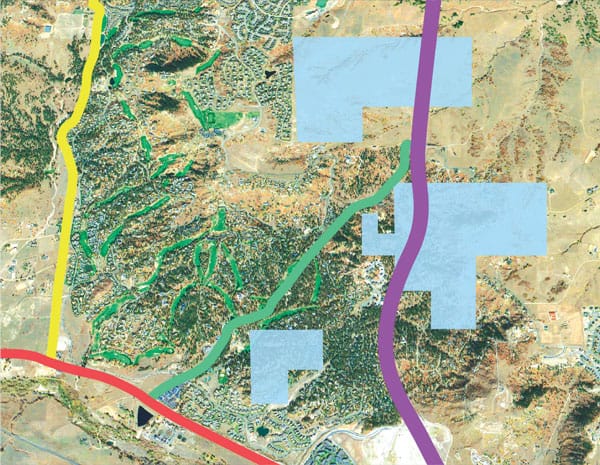 Map of the 1937 Chase Landholdings (in blue). I-25 is highlighted purple, Santa Fe (Hwy 85) is red, Happy Canyon Road is green and Daniels Park Road is yellow.
By Joe Gschwendtner
Picking up where we left off last month …While John Chase Jr. was clearly the shaker and mover among the three sons who homesteaded in our Wildcat Mountains, Sylvanus and Fred cast their own long shadows.
Sylvanus (Syl) Chase, the oldest, was born in Detroit in 1848 and arrived in Colorado with his brothers in 1884. Great things were expected of him from birth as he was named after his great Uncle Sylvanus Thayer, founder of West Point. All Michigan schooling was selected to ensure Syl could gain entrance to the Academy. Fate intervened at age 16 when he became crippled for life, rendering him unfit for the Academy or any military career.
Disability did not dampen his ambition, however. On arrival here he revised his dreams among Wildcat Mountain open spaces and meadows, becoming a rancher, stockman, sawmill operator and creamery owner. He and wife Molly built the family home in Muddy Hollow, the valley at the foot of the hill coming south from Beverly Hills.
Brother Fred (C.F. Chase) was never far away. Conveniently marrying Ruby Mae, daughter of Elkanah Camp, (also Michiganders, the Camps homesteaded a section of land between the Chase brother landholdings), the couple built their home in southern Beverly Hills, north of Castle Pines Parkway and west of I-25.
In 1889, the brothers combined their acreage under the brand of the Happy Canon Land and Cattle Company. Amounting to more than 3,000 acres, most of it straddled what would later become I-25 between Castle Pines Drive North and Happy Canyon Road. Even after consolidation, their real estate holdings were irregular. Of necessity, the Chases strung more than 20 miles of barbed wire fencing to protect their patchwork empire.
Perhaps because of his robust health, Fred was the more dynamic partner, evident in his social life and service on the school board. Fred was District 31 president during re-districting in 1896. Round Top Schoolhouse went from Round Top hill east of I-25 to a better location near today's Castle Pines Metropolitan District Headquarters on his watch.
As ranchers, Syl and Fred specialized in breeding, weaning, and fattening cattle. Since milking shorthorns was part of that trade mix, they built a creamery at Table Rock to process and distribute their byproduct. It was later sold to Clarence Frink of Larkspur, a local dairy baron famous for his Black Canyon Cheese.
After John Sr. died in 1905, the brothers shared in the use of his summer cabin on the north side of Happy Canyon Road (near the swing set above the Schmidt gates). That last remaining icon of the valley fell to arson, burning to the ground in 1972. A prior tenant seeking revenge for eviction is believed to have done jail time.
The Chase family had an epic impact in our Wildcat Mountains – exceeding any other family. Whether ranching, milling, reforestation or civic service outreach like Chase's Grove, the school board, and free medical care, each was a superb environmental steward in an era when plundering woodlands for lumber was the norm. There is a move afoot to pay a higher tribute than mere words. Stay tuned …