The incurable creative junkie of Castle Pines
May 1, 2014
/
/
Comments Off

on The incurable creative junkie of Castle Pines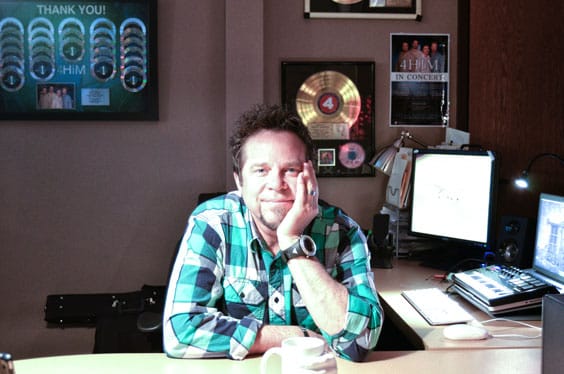 Valor Christian High School teacher and professional musician
Marty Magehee at home in his Valor studio.
Article and photo by JulieAnna Reinhardt
With five million music albums sold worldwide, twenty-seven number one singles, more than four thousand concert performances, and a Grammy nomination, you have a star. But Castle Pines resident Marty Magehee isn't just a successful Christian pop singer, songwriter and producer; he is a teacher shaping the lives of aspiring musicians at Valor Christian High School (Valor).
As one of the founding members and lead singer of the contemporary Christian pop band 4HIM, Magehee spent 20 years in the music industry in Nashville and had a distinguished and decorated career. In 2010, Magehee wanted to expand his influence, and he uprooted his wife Sheri and three boys, Bishop, Seth, and Ryken, and moved to Castle Pines, Colorado.
Magehee was invited to be a guest lecturer at Valor, and within a year he was offered a full-time position teaching many aspects of musical performance. Magehee realized his true calling in teaching and mentoring talented student musicians at Valor and showing them "the real story of what the industry looks like as they chase their dreams."
"Over decades, I've watched gifted and talented people lose their way, and that's unfortunate," Magehee said. "I'm doing what I'm called to do in giving these kids the tools of the trade and helping them prepare for what they will see in places like Nashville, Los Angeles, and New York."
Magehee's recording and mixing studio at Valor allows him to do just that, with industry standard equipment, famous guest lecturers, and his God given talent to guide and shape his young students. Last year, Magehee took his students on a field trip to New York and met with Chris G, the mastering engineer at world-renowned Sterling Sound to give the students a taste of the real deal.
Today, Magehee continues to lead with a sense of creative urgency as he embarks on his newest journey – helping to create the new Valor Center for Culture and Influence, a multimillion dollar cutting edge art and theater building on Valor's main campus (set to break ground later this month). Magehee's new classroom and adjoining music studio will be off the charts, allowing his students to, as he puts it, "peer into the process and learn from real hands-on music making for the industry today."
There is one added mega bonus – Magehee recently finished negotiating an endorsement with industry giant McPherson Guitars to outfit the new song writing and recording studio with McPherson equipment! Magehee just keeps charging ahead, and it looks like this is only the beginning for this incurable creative junkie.