The Queen of Halloween reigns in CPV
October 1, 2013
/
/
Comments Off

on The Queen of Halloween reigns in CPV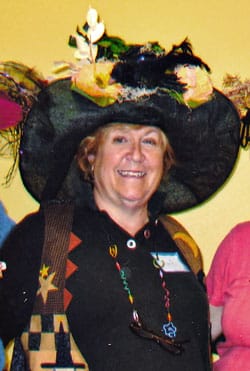 Joanie Micale is dubbed the Queen of Halloween by friends and members of her book club.
By Amy Shanahan; photo courtesy of Cindy Cranstone
Joanie Micale looks forward to the month of October every year, and it's not because there is a nip in the air. Castle Pines Village resident Micale is crazy for all things haunted and Halloween in nature! Micale's great smile and infectious giggle are quite contrary to her love of mystery and thrills with chills.
Micale believes her obsession with mystery and hauntings began when she was a little girl. "Every penny I saved went toward Nancy Drew books," Micale remarked. When her daughter was little, she would put her to bed and stay up watching late night scary movies like Bride of Frankenstein. "I don't like bloodthirsty movies," stated Micale, "just scary movies that send a little chill down my spine!"
In addition to scary movies, Micale thoroughly enjoys haunted tours, and makes a point of participating in any that she can find when she travels. Micale's very favorite tour is a haunted tour of Honolulu, Hawaii, although she is equally enthusiastic about tours in San Diego, California and Key West, Florida. Locally, Micale enjoys staying in notoriously haunted hotels in Cripple Creek, and of course, The Stanley Hotel in Estes Park is one of her all time favorite haunts. "I find a bit of mystery
everywhere I go!" laughed Micale. Surprisingly unaware of the history,
Micale was especially intrigued by rumors that the cottages at Castle
Pines Golf Club may have been haunted (see related story next page).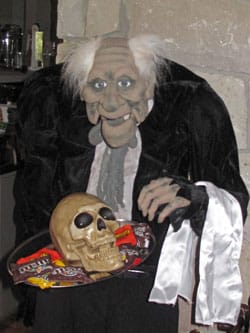 The talking butler greets guests at the door with treats.

Micale shares her love for hauntings and Halloween with her book club, which she hosts every October without fail. Although she doesn't get many trick-or-treaters, Micale enjoys decorating her house strictly for the delight of her book club friends. Displays of her haunted village and other decorations rival any store display. Micale's book club friends look forward to her specialty "mummy dogs" and other treats that she serves, and many participate in her annual costume contest.
Micale is a fun loving Queen of Halloween who makes her love of the scariest holiday last throughout the year!