The resounding joy of a bell choir
January 1, 2019
/
/
Comments Off

on The resounding joy of a bell choir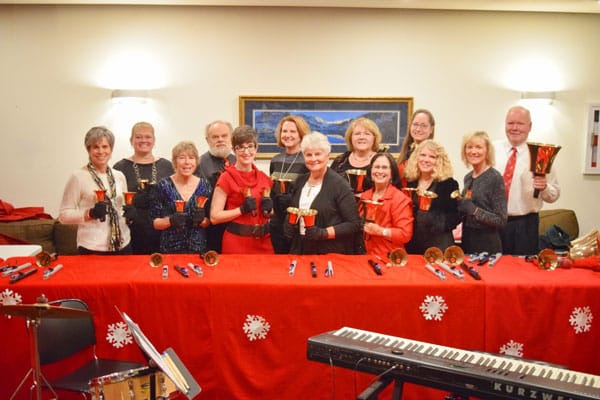 The Castle Rock Community Ringers delighted audiences with their holiday musical performances.


Article and photos by Lynn Zahorik
The sweet and silvery sound of bells entertained many as the Castle Rock Community Ringers (CRCR) rang in the holiday season. The CRCR handbell choir is a nonprofit group that was formed 10 years ago to bring the beautiful sound of handbells and chimes into the Douglas County community.
Director Jane Mennem leads the 13-member strong group, which includes Castle Pines residents Sharon Ferris and Colette Celecki, and DCS Montessori school teacher Andrea Perrino.
Most handbells are cast in bronze with individual weights ranging from several ounces to more than 15 lbs. Ringers wear black or white gloves to protect their hands from blisters and the pressures of the handles. The gloves also protect the casting of the bells from the moisture and oils of the ringer's hands.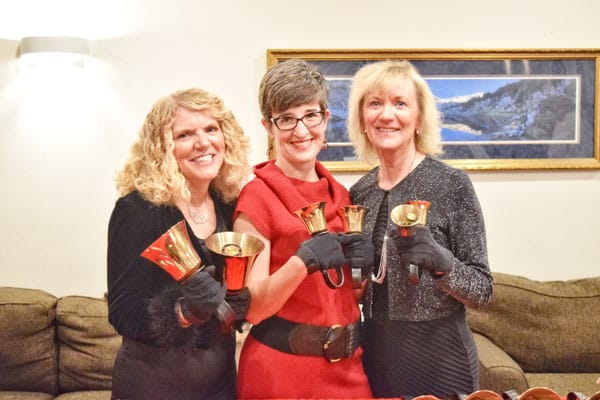 Colette Celecki, Andrea Perrino and Sharon Ferris have enjoyed the friendships that have developed as devoted members of the Castle Rock Community Ringers.

The group practices once a week, July through December, to prepare for their many concerts. It requires great teamwork to create the carefully-crafted music. They play five octaves, and each octave has eight notes. The CRCR have delighted audiences at area churches and local venues throughout Castle Rock. Most recently, the sounds of CRCR could be enjoyed at New Hope Presbyterian's Figgy Pudding Party and Faith Lutheran's Christmas Cantata.
As one of the founding members, Ferris loves to share her passion for music through the ministry of the CRCR. "I stay involved because it is fun," says Ferris. "We work hard together at rehearsals and enjoy challenging music that uses many different ringing techniques. Close friendships are born from our dedication and commitment and working together to perform the music." Celecki, who has been a ringer for two years said, "I delight in the opportunity to give back to the community through such a unique form of music."
The Castle Rock Community Ringers have definitely struck a chord with their listeners as their performances are always crowded. To find out more about CRCR upcoming events, visit www.facebook.com/CRCRInc/.