Then and Now…Development Update
February 1, 2019
/
/
Comments Off

on Then and Now…Development Update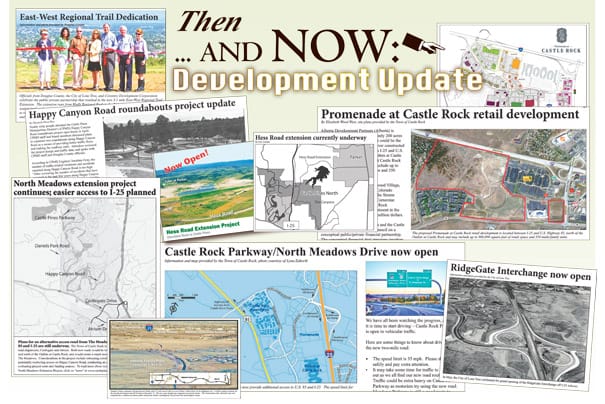 By Terri Wiebold; file photos
Since inception, The Castle Pines Connection has sought to unify homeowners in the 80108 ZIP code. When we sat down 10 years ago and started highlighting areas on the map where residents who shop at the same local grocery stores, and whose children attend the same public schools, were located, we found that this community we collectively call "Castle Pines" included not only the City of Castle Pines and The Village at Castle Pines – both which bear the name, but also pockets of Castle Rock and areas of unincorporated Douglas County.
Although somewhat insulated from the vast growth and development in other neighboring areas (Lone Tree, Parker and Castle Rock), Castle Pines residents are impacted by any development in Douglas County. The past 10 years have brought much change to these other areas, and The Connection has been there to cover it.
Some of the changes having significant impact on our readers included:
– Closure of the Surrey Ridge I-25 exit and development of the RidgeGate exit
– Building RidgeGate Parkway and Hess Road, both of which extend east from I-25 to Parker
– Expansion of Rueter-Hess Reservoir
– RTD stations at Lincoln and RidgeGate
– Daniels Park upgrades
– Roundabouts on Happy Canyon Road
– Building of Canyons Community Church and Journey Church
– Castle Rock Parkway/North Meadows Drive
– Promenade at Castle Rock development
– East/West Regional Trail expansion
The next 10 years will likely see much more growth and development for 80108, particularly in the City of Castle Pines. Striking the fine balance between thoughtful and responsible development and meeting the commercial and residential needs of the community will be a challenge. Citizen involvement has always been a strong suit of Castle Pines residents, and that continued participation in local government will help shape the future of this very special place.