There's nothing soft about softball at RCHS
December 1, 2010
/
/
Comments Off

on There's nothing soft about softball at RCHS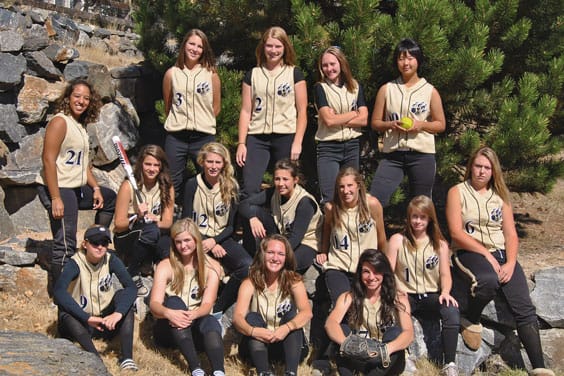 RCHS varsity softball team, second place in state, (left to right) back row: Kaitlyn Miller, Katie Cook, Zayne Blumberg, and Shen Lu Swartout; middle row: Taylor Pettaway, Alli McCloskey, Brooke Wakefield, Shannon Lieber, Remy Mooney, Taylor Dunn, and Brooklyn Travis; front row: Lauren Yacks, Melanie White, Hannah Gunther, and Alexa Vareldzis.

Article by Kathy Dunker with photo courtesy of RCHS
The Rock Canyon High School (RCHS) girls softball team finished second in the 5A State Tournament.
Senior Melanie White and sophomore Alli McCloskey were voted first team All-State and selected to the All-Colorado Softball team. Softball Coach, Deb Kortbawi, was voted 5A Softball Coach of the Year.
The team earned the number three seed in Class 5A regionals and continued their winning streak with two wins in Region 5 play at Erie Community Park. The Jaguars (17-4) beat Palmer 12-0 before defeating Dakota Ridge 4-2. In the win against Dakota Ridge (16-6), Melanie White struck out nine players.
From there, it was off to state for the Jaguars. The tournament was held in October at All Star Park in Lakewood. RCHS started off with a close win over Arvada West at 3-2. They continued on with a 4-0 shut out over Loveland which was followed by another close win over Fruita Monument at 3-2.
Unfortunately, RCHS lost to defending champs Legacy 5-2 in the final round. This made Legacy's fourth consecutive season of winning the title.