Being a great party hostess
February 1, 2020
/
/
Comments Off

on Being a great party hostess
Thoroughly Modern Manners – Ask Mrs. Abramovitz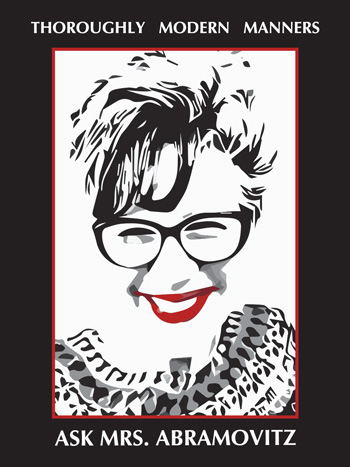 Dear Reader,
Let's talk about some of the manners around being a great party hostess and an awesome party guest. If etiquette is the road surface and manners are the rules of the road, let's talk about which lane to get in.
One of the rules I'm most adamant about is to have the energy to meet your enthusiasm. The idea of a party, the guest list, the menu, the table setting, the invitation are all fun things to think about, but you must consider all that goes into the execution on the day of.
Dear Reader, no one wants to show up at a party where the hostess is out of gas. Same goes for the partygoer. Show a little enthusiasm! You are being included because the hostess thinks you have something to add to the party. Go ahead and show her she is right.
And don't dare show up empty handed! This is another rule of the road. Please consider offering a little something for the hostess. There is a constant debate about showing up with flowers. I personally LOVE flowers and LOVE those who give them, but it does add to the list of things to do for the already busy hostess. If you know your hostess and you know where she keeps the vases, go ahead and cut them and put them out; she'll be glad you did. If you don't know her well, take them to the sink and put them in some water until they can be attended to. Wine and spirits are always a great go-to, but so are homemade offerings and even a card letting them know you've donated to their favorite charity.
The sky is the limit. The offering is the little thing that counts, and if you'll go ahead and put that handwritten thank you card in the mail right after the party thanking your hostess, you can give yourself an A+.