Timber Trail art teacher finds inspiration across the globe
January 1, 2010
/
/
Comments Off

on Timber Trail art teacher finds inspiration across the globe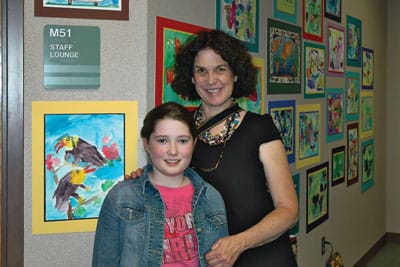 Ten-year-old Ashley M. with Timber Trail Elementary art teacher Peggy Jensen. Ashley participated in a fall art show at TTE which was held in conjunction with the school's book fair fund raiser.

Article and photo by Lisa Crockett
Inspiration is nearly everywhere, especially for budding artists at Timber Trail Elementary (TTE). In November, the school hosted an art show featuring work from hundreds of its students in an exhibit titled "Destinations." Works of art were based on themes spanning the globe and ran the gamut from Australian crocodiles to New York jazz musicians.
The show was held in conjunction with Timber Trail's book fair, a book sale held in the school's library to raise funds to buy new books. It is fitting then, that much of the art was inspired by children's literature.
"We do a lot of reading and writing along with our art and I really love kids' books," said TTE art teacher Peggy Jensen — Ms. "J" to the students. "When we add the art to those other activities, we can reach kids of all learning styles. When the kids can see, touch, make and do, they learn so much more."
The art show was an integral part of the fair's success, drawing students and parents to participate in both events. The sale saw gross sales of $17,400, which translates into $4,300 to be used to purchase books and materials for the school's library.
Tropical rainforests were the subject of the exhibit displaying 10-year-old Ashley M.'s work.
"I think this show is really cool," said Ashley. "People have worked really hard with Ms. J. She's so artistic and is always thinking of new ideas."
Jensen largely rejects the idea that art can be taught in exactly the same way as other subjects like math or reading.
"Of course we're always looking for ways to help the kids improve, to add more color or detail to their work," said Jensen. "But we need to also value the effort the kids make, rather than just judging the final product they create."
Jensen said that the art show format is an excellent way to generate pride and a sense of accomplishment for her young students.
"I love to hear them walk through the halls and tell their friends 'oh, look! That one is mine.' They're so excited to see their work displayed. Art needs to be a celebration and with a show like this, it is."