Timber Trail Elementary students sing at Rockies game
May 1, 2017
/
/
Comments Off

on Timber Trail Elementary students sing at Rockies game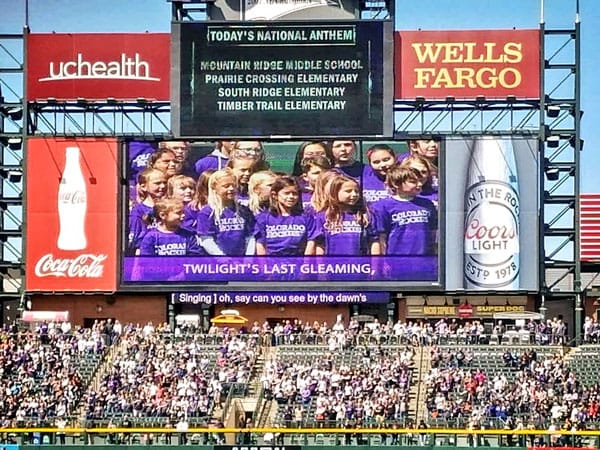 More than 100 members of the TTE choir had the honor of singing the national anthem at the April 9 Colorado Rockies game.


By Lynne Marsala Basche; photos courtesy of Linda Sovich and Cindy Berndt

On April 9, spectators at Coors Field enjoyed peanuts, Cracker Jack and the Timber Trail Elementary (TTE) choir singing the national anthem at the Colorado Rockies versus Los Angeles Dodgers baseball game.
Under the leadership of music teacher and chorus conductor Cindy Berndt, the TTE choir was one of four schools who had the honor of singing at the afternoon game. In previous years, Berndt reached out to the Rockies for the singing opportunity, but their calendar was already full. This year, however, the Rockies reached out to Douglas County music teachers for the event.
TTE singers included 88 members of the second and third-grade choir, 40 singers from the fourth and fifth-grade choir, and 13 members of the fifth-grade honor choir. TTE had the most musicians represented on the field.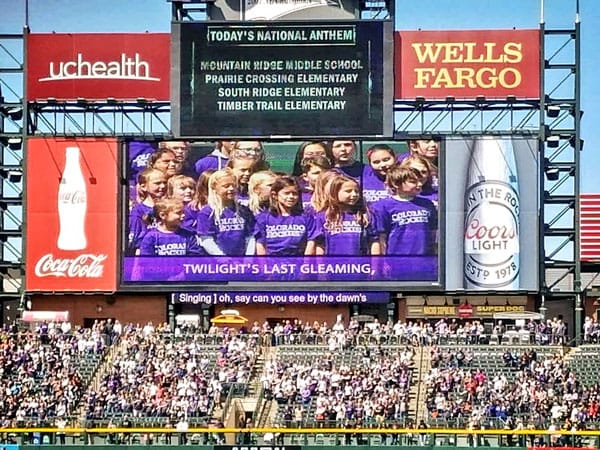 "I was so excited about singing at the Rockies game," said third grade student Samantha Sovich (pictured center). "I was excited and nervous at the same time."

Choir singers rehearsed before school for the a cappella performance. Other schools included Prairie Crossing Elementary, South Ridge Elementary, and Mountain Ridge Middle.
"I am so proud of the Timber Trail choirs for their performance! We were nervous, excited and thrilled to be a part of such a unique opportunity," said Berndt. "The singers really enjoyed the perspective and the honor of providing the national anthem for Rockies fans."
While the Rockies lost the game, it did not dull the experience for the TTE choir, and Berndt hopes that this becomes an annual event for the TTE singers.