Under the Big Top…the greatest dance
April 1, 2019
/
/
Comments Off

on Under the Big Top…the greatest dance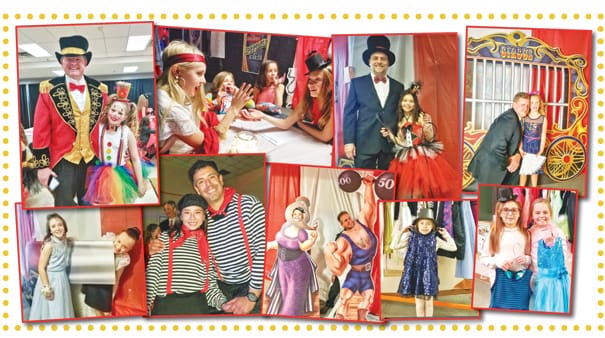 Article and photos by Julie Matuszewski; photos courtesy of Amy Ball
The greatest dance this year took place February 23 at Timber Trail Elementary (TTE). Daddies and daughters put on their best dresses, tuxes and top hats for the greatest dance, "Under the Big Top."
A favorite event of the year, dads proudly escorted their daughters through halls of circus big top delights, which included decorations of popcorn, circus canons, photo booths and a fortune teller. These daddies and daughters were not the only ones excited for the big dance. Park Place, The Ridge at Castle Pines North's restaurant, seated several reservations for the​ ​night of the dance and donated five percent of the evening's profits back to TTE.
To prepare for the dance, the girls were invited to an annual dress swap hosted by the Timber Trail Education Alliance (TTEA). The dress swap was a fun and affordable event for the girls to shop for dresses and top hats, while raising money for TTEA. In addition to the dress swap, teacher-sponsored gumball machines decorated in the spirit of the big top, with class baskets filled with bath items, art supplies and ice cream favorites were auctioned during the dance to help the TTEA raise money to continue to support teachers and students.
The dance was a special night the girls looked forward to attending. They loved dressing up in their best dresses and big top attire while sharing a special night with their dads. Royal Entertainment DJ Dan Colella spun hours of hits, including the Cupid Shuffle and Pharrell's "Happy." Daddies and daughters enjoyed their dance under the bright lights to Bob Carlisle's "Butterfly Kisses."
Fifth-grade student Katie Rummel stated, "The daddy daughter dance was my favorite event yet. The DJ played great music, everyone danced and the girls looked beautiful all dressed up. It was a special time to connect with my dad because we got to have one-on-one time together." Making special memories together made this evening the greatest dance under the big top!