Verizon seeks approval for new flag pole
April 1, 2009
/
/
Comments Off

on Verizon seeks approval for new flag pole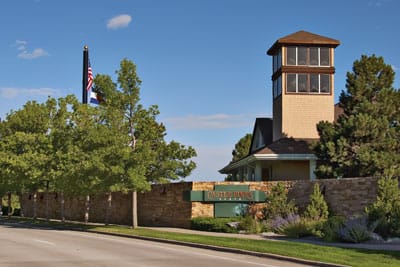 by Lane Roberts
Verizon Wireless has been working with the Castle Pines North (CPN) Metro District to add a new flag pole cell tower at the Community Center located on Yorkshire Drive at Castle Pines Parkway.
The nation's largest wireless telecommunications provider has determined that wireless coverage in the CPN area, primarily to the west and north of Yorkshire Drive is not optimal.
The Community Center facility, which is owned and maintained by the CPN Metro District, currently has a flag pole cell tower which is leased by T-mobile. The proposed Verizon tower, if approved by the city, would be a mirror image of the current flag pole.
"Verizon is in the midst of a 35-day comment period for approval of a use by special review," said Metro District Manager James McGrady. As of press time, McGrady was returning response request comments to the city's planning department.
Verizon paid the District $1,000 in advance to begin the project. The Metro District Board authorized donating those funds to the Castle Pines Chamber of Commerce.
Cell phone towers currently generate additional revenue for the Metro District. McGrady says the lease with Verizon will generate approximately $22,000 annually which is used to offset various operating expenses.
For more information, please contact the Metro District at 303-688-8550.