June 1, 2018
/
/
Comments Off

on What the heckle?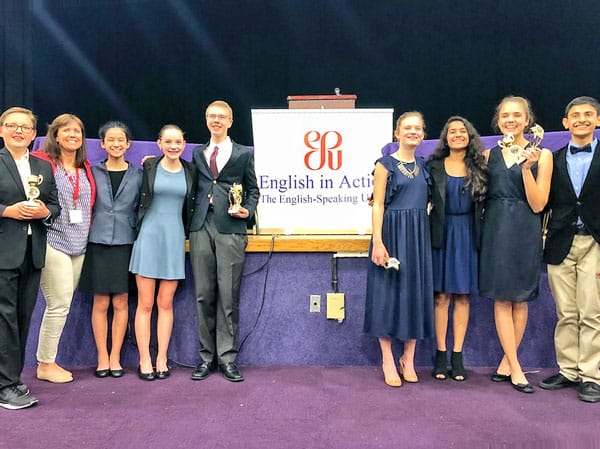 RHMS debaters at the national tournament (left to right): Carter McDonald (CP), debate coach Lynn Legg, Morgan Brent (CP), Frankie Stroud, Andrew Dupper (CP), Emma Kate Squires (CP), Mahika Anand, Allison Willner (CP), and Krish Kumar. Not pictured: Landon Hoffmeister.

By Kira Zizzo, RHMS intern writer; photo courtesy of Megan McDonald
Words roll off tongues, dive off lips, sail into the air, and clash with each other as pronunciation, reasoning and impacts strengthen them. A heckle or point of information (POI) intercepts this methodical chaos, tactics used by the most-skilled. This is debate.
Nine members of the Rocky Heights Middle School (RHMS) debate club took their passion to the national debate tournament in New York City on May 5 at NEST+M (New Explorations into Science, Technology plus Math), a Manhattan school. The Middle School Public Debate Program and English in Action were sponsors. Ninety-nine teams – 297 participants – from 33 different schools and seven states faced off in this intense and rigorous competition.
Five rounds of competition judged debaters on individual speaking and argumentation skills and how well they knocked down the opposition's points. Motions debated included: ban the practice of requiring job applicants to disclose their criminal history, the U.S. should adopt a universal guaranteed annual income, reptiles should not be kept as pets, credit card companies should not process firearms sales, the Olympic Games should include eSports, and a nuclear attack on North Korea should be "off the table." The announcement of opposition (against) and proposition (for) sides – each with three speakers – and the pairing of teams started each round. Teams prepared arguments and speeches based on their research, without using electronics. The proposition's five-minute speech started each debate, then speeches alternated from each side. When the debate was over, judges scored each speaker, gave each team useful feedback, and revealed the debate winners.
Students who made it to nationals have been debating for two to three years. They put an astounding effort into this tournament and poured their hearts into each aspect of their speeches. Lynn Legg, the RHMS debate coach stated, "I took great pride in watching my teams work together and give their very best. Preparing for the tournament included weeks of preparation. The students took their preparation seriously and it showed as the Douglas County Debate League gave an impressive showing." These debaters went on a journey of self-improvement and polished their skills to perform their best, as Allison Willner stated, "I had to work on my pacing because I speed up and slow down a lot. My team also spent a lot of time making sure our speeches all flowed together well."
The RHMS students' devotion and strong work ethic paid off. The team of Allison Willner, Andrew Dupper, and Emma Kate Squires took fifth place. For speaking skills Andrew Dupper took 2nd place, Allison Willner took 14th place and Carter McDonald took 18th place. Making it to nationals is an accomplishment in itself, so all the debaters should be extremely proud of themselves and their achievements. The RHMS community surely is. Krish Kumar stated, "It was an experience of a lifetime, I was able to meet debaters from around the nation and discuss controversial topics that are being talked about around the nation while having fun."