Big winners at 22nd Annual Rotary Club Ducky Derby
July 1, 2018
/
/
Comments Off

on Big winners at 22nd Annual Rotary Club Ducky Derby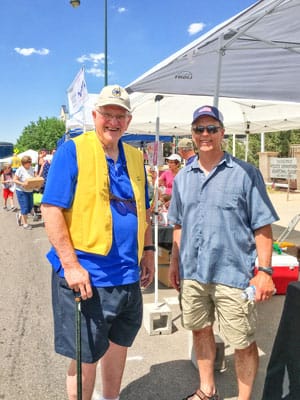 Castle Rock Rotary Club member Gordon Allott (left) and Ducky Derby visitor Richard West (right).
Article and photo by Elizabeth Wood West; photo courtesy of Rich Bangs
There were three cash prize winners at the 22nd Annual Rotary Club Ducky Derby event in June. Hosted by the Rotary Club of Castle Rock, High Noon Rotary Club of Castle Rock and Castle Pines Rotary Club at Festival Park in downtown Castle Rock, the ever-popular family-fun street festival centered on the launching of nearly 10,000 rubber duckies (each one sponsored by an anxious Ducky Derby ticket holder) into East Plum Creek and a race to the finish line. The winner of the $2,000 cash prize was Kristina Rourke, the $750 cash prize winner was Chris Bellino, and the $250 cash prize winner was Henry Bruce. Ducky Derby featured live entertainment, food and beverage vendors, crafts and other business vendors, silent auction, and a children's coloring contest.
Proceeds from Ducky Derby are distributed to local Douglas County nonprofit organizations; this year's recipients include Douglas/Elbert Task Force, Castle Rock Senior Center, Colorado HorsePower, Sky Cliff Center, Crisis Center, Wellspring Community, student scholarships, youth leadership training, and Boy Scouts of America projects. Early estimates indicate that between $40,000 to $50,000 was raised from this year's event. For more information about Rotary Club of Castle Rock, visit www.rotaryclubofcastlerock.org.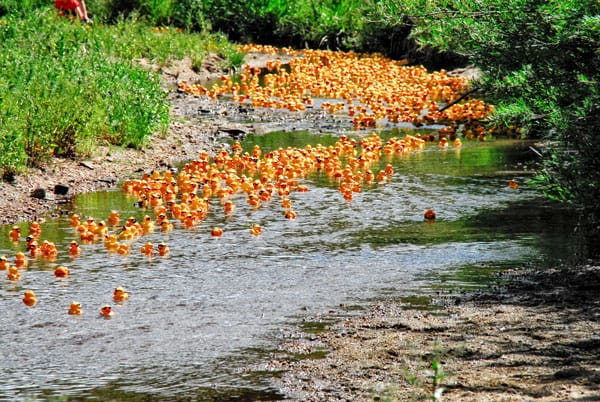 Approximately 10,000 rubber duckies raced to the finish line in East Plum Creek during the 22nd Annual Ducky Derby in downtown Castle Rock.