Women making lemonade with life's lemons
January 1, 2016
/
/
Comments Off

on Women making lemonade with life's lemons
Womenade is dedicated to aiding the Castle Rock and Castle Pines
community through a network of caring women. Womenade of Castle Rock
began in March 2004 and has raised more than $72,000 and helped more
than 150 families in the community since then. In December, the group
met at the Castle Rock home of Libby Anderson and raised $2,000 for the
Davis family in Castle Rock.

By Lisa Nicklanovich; photo courtesy of Carla Kenny and the Davis Family
Meet Jackson Davis of Castle Rock, a graduate of Douglas County High class of 2015 and Womenade's December recipient. Jackson and his father were returning from a trip to Camp Pendleton in San Diego where they were celebrating Jackson's recent acceptance into the U.S. Marine Corps by attending a graduation ceremony there.
On their return trip, their vehicle was hit by an uninsured drunk driver in Pueblo. Jackson is currently at Craig Hospital recovering from head trauma, a shattered pelvis, a torn bladder, and two broken legs. The $2,000 Womenade raised on December 2 will help the Davis family with medical bills and provide support for Jackson.
Jackson's sister has set up a "Go Fund Me" account for ongoing contributions; visit www.gofundme.com/jacksonandtim. To learn more about Womenade, visit www.WomenadeCastleRock.com.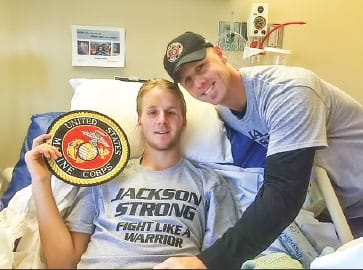 Jackson Davis plans to follow in his father Tim's footsteps by serving in the U.S. Marine Corps. Jackson is currently at Craig Hospital recovering from an auto accident.