Yorkshire Traffic Signal Near Completion
March 1, 2006
/
/
Comments Off

on Yorkshire Traffic Signal Near Completion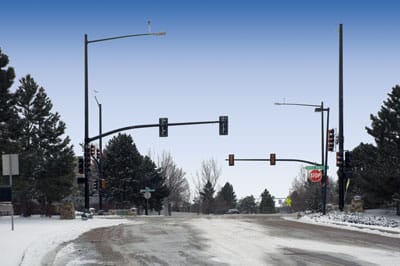 by Terri Wiebold
Drivers Use Caution– New Traffic Signal Expected to be Operational by April 5
Effective noon, March 30, the traffic signal at the intersection of Castle Pines Parkway and Yorkshire Drive was put in four-way flashing mode. The signal is flashing yellow to drivers on Castle Pines Parkway and is flashing red to drivers on Yorkshire Drive.
Principal Traffic Engineer for the Douglas County Public Works Department, Alex Larson, cautions drivers to be alert during this time of transition. "Now is the time when accidents tend to happen," said Larson. "This transition period is a warning to drivers that there is a change coming and to pay extra attention."
The final change is scheduled to occur around 1 p.m. on Wednesday, April 5, when the light will become fully-functional. According to Larson, this is the most dangerous time. Drivers are encouraged to use caution when traveling in this area.
To read the details on how this traffic light came to fruition read the article "CPN Master Association Safety Committee Gets the Green Light."