A clear vision, looking forward
April 1, 2018
/
/
Comments Off

on A clear vision, looking forward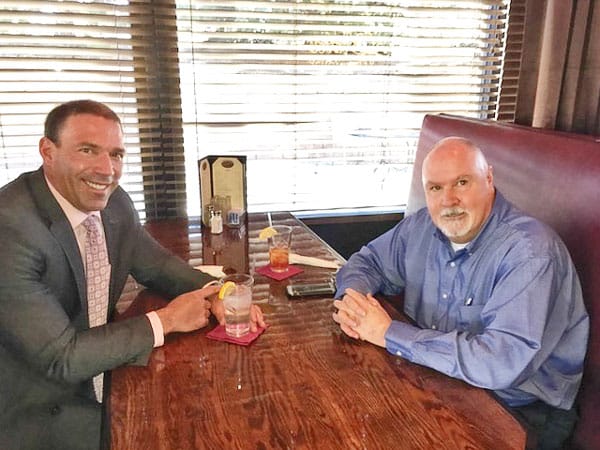 Castle Pines interim city manager Michael Penny (left) and Castle Pines North Metro District manager Jim Nikkel (right) met recently at Duke's Steakhouse for lunch to discuss how the two entities can work together in best serving the residents of Castle Pines. The City Council and the Metro District board will meet later this month for a joint study session.
By Terri Wiebold; photo by Daniel Williams
As the City of Castle Pines commemorates the past with its 10-year anniversary this year, city officials are optimistically looking toward the future. There is much excitement and motivation at city hall as the new mayor, city council and interim city manager move forward with a clear vision for the city.
City officials recently refined and unanimously adopted the city's vision statement as: "An inclusive Colorado community that embraces our unique neighborhood character; a community that creates outdoor and active lifestyle living amenities; and a community that supports conscientious development where we live, work, play, and shop."
Additionally, council defined its 2018-2019 strategic objectives as: Financial resiliency and vitality, reliable and safe infrastructure, intentional development and economic strength. Fostering community and maintaining high performing operations rounded out the goals for the next two years.
Interim city manager Michael Penny shared that he sees great potential for the city and he welcomes the opportunity to engage and educate residents about what is happening in Castle Pines. "I really think that we have an opportunity to help set the community up to engage with us in a different way than we probably have done in the past," Penny stated at the March 13 city council meeting. Penny hit the ground running and has already met with city council, staff, key community leaders and property stakeholders.
If you have not attended a city council meeting in a while, now is a good time to check out what is happening in the city. Meetings are held the second and fourth Tuesday of each month at 6 p.m. at the Douglas County Libraries – Castle Pines.
For meeting agendas or to watch video streaming of the council meetings, visit castlepinesgov.com.