A moment in history; Valor faculty and students head to Washington, D.C. to be part of the Presidential Inauguration
March 1, 2013
/
/
Comments Off

on A moment in history; Valor faculty and students head to Washington, D.C. to be part of the Presidential Inauguration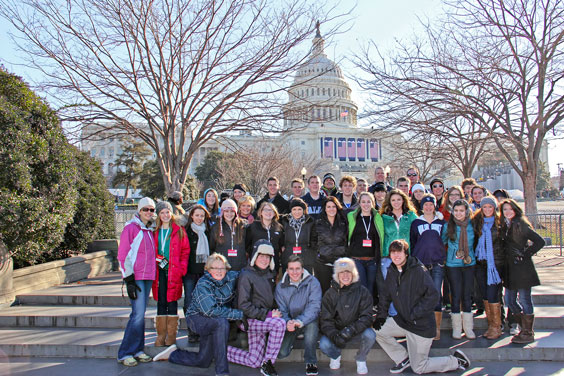 Valor students took part in history when they travelled to Washington, D.C. for the inauguration of President Barack Obama.
By Julie Montoya; photos courtesy of Terry Adams
A part of history…that's what a group of students and faculty from Valor Christian High School were, as they stood on the National Mall and watched the Inauguration of the 57th President of the United States. Castle Pines resident Terry Adams was one of the five faculty chaperones who accompanied thirty-two students, not only to the Inauguration, but also on a five-day tour of the Capital that included visits to the Smithsonian museums, war memorials, and a meeting with Colorado Congressman Mike Coffman.
The group started its tour on Friday, January 18, with what Adams called "one of the most memorable moments of the trip." Adams' own words describe that first night best: "The first evening that we arrived, we rolled into D.C. and saw the skyline, the major monuments and the capitol buildings just as the sun was setting. In the dusky light we proceeded to the Vietnam Memorial and the Wall. The students were solemn and attentive as they learned about the war, and the lives lost. They proceeded at their own pace to walk along and reflect on the lives (that were) prematurely ended." Adams went on to say, "That first night, the students' hearts and minds were impressed upon with the cost of freedom, and the forces which are always at work to take that freedom away."
On Saturday, the students had a meeting with Congressman Mike Coffman, as well as lunch on Capitol Hill. They visited several memorials and the National Archives. The students had a chance to connect with the things they have only studied in school. It was amazing "to see first hand the people, documents, and images of the past, which are the foundation for the nation we live in today," said Adams.
On Monday, the students witnessed history, with the Inauguration of President Barack Obama. Students took in the moment of this transition of government, as they watched President Obama take his Oath of Office. They celebrated with the Presidential Parade along Pennsylvania Avenue, and marveled at the excitement they shared with their fellow Americans.
The trip was rounded out by a visit to Arlington National Cemetery where they visited Kennedy's grave, the Tomb of the Unknown Soldier, and had the honor to observe the changing of the Guard. To have walked this historic city may forever change the way these students view our government, its power, our freedoms, and the citizens for which it was created.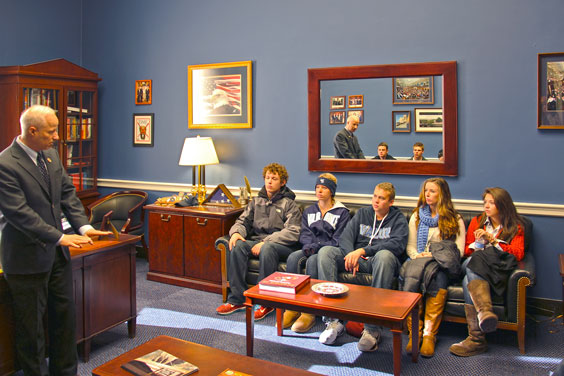 Valor students had the opportunity to meet personally with Colorado Congressman Mike Coffman on their visit to Washington D.C.