A new journey begins for long awaited church
September 1, 2017
/
/
Comments Off

on A new journey begins for long awaited church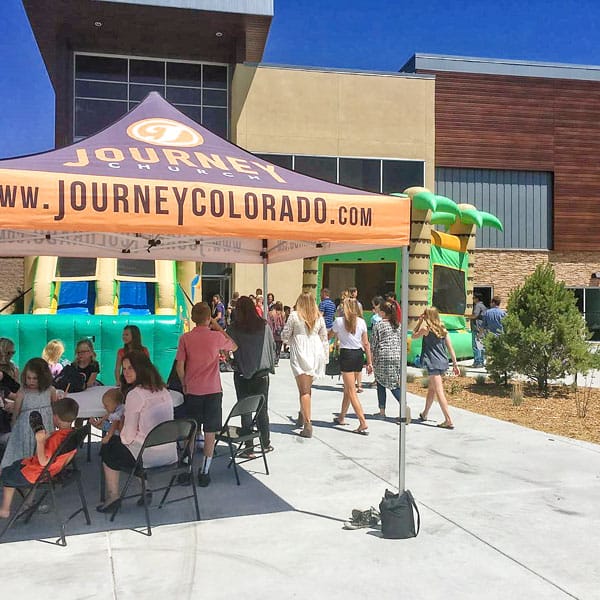 Church attendance for the grand opening was around 1,100 adults and kids. Going forward Journey Church will offer three Sunday services.

By Patte Smith; photos courtesy of Journey Church
A joyful congregation celebrated Journey Church's grand opening on Sunday, August 13 with bounce houses for the kids, a dunk tank and plenty of good eats. The congregation has eagerly waited to see the construction of the church – located at 9009 Clydesdale Road, between the Surrey Ridge and Oak Hills neighborhoods – become a reality since 2015.
"We are so excited about this new season in the life of our church," exclaimed Scotty Priest, the senior pastor at Journey Church. "We say all the time that 'we are here just to help people take their next steps with God,' and honestly our new facility is just a tool to help us do that. We look forward to becoming great neighbors and serving our community in very tangible ways. We invite anyone and everyone to join us at one of our Sunday services."
"In the past few weeks, Priest had started a new sermon series called 'Finding Your Way Back to God'," noted Heather Kittell, operations director for the church. "He speaks about how it doesn't matter why you lost your way and that God waits for a person to return and when you do you are received with open arms that say 'Welcome Home'!"
In that spirit, the congregation welcomed families and friends and new churchgoers to the three services that were held on August 13. "Over 1,100 adults and kids joined us at the grand opening – it was an amazing day," explained Kittell. "We have added a third service for Sundays going forward. Our service times are now going to be 9:00 a.m., 10:45 a.m. and 5:00 p.m."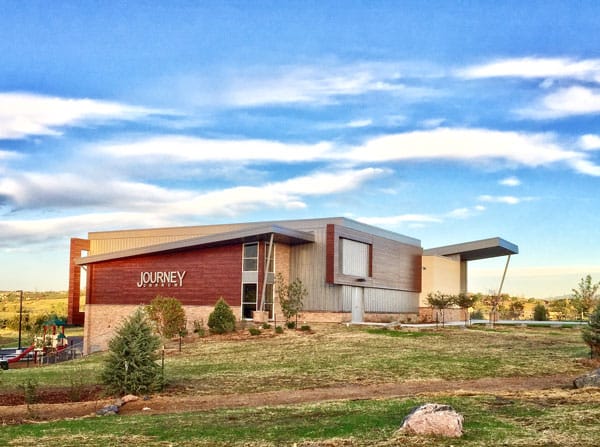 The brand new Journey Church building can be seen off the west side of I-25, just north of the Castle Pines Parkway exit.
Two Journey Church congregations, one from Castle Rock and the other from Centennial, merged together to form the new church congregation and recently Solid Life announced it has also joined the group. Parishioners of the church come from Parker, Bailey, Highlands Ranch, Aurora, Castle Rock, Englewood, Centennial and Castle Pines.
"For the past 13 years, Solid Life Church has worked hard to serve the Castle Pines community," said Russ Stutzman, who is now community pastor at Journey Church. "Like Solid Life, the new Journey Church has the same desire to give, serve and create a place for people to take their next steps. Since we are two like-minded churches who are aligned in values, culture and beliefs, it seemed natural to merge our church family with theirs, so that together we can do even more."
For more information about the church, visit www.journeycolorado.com.