Abiding Hope Lutheran joins Castle Pines faith community
April 1, 2011
/
/
Comments Off

on Abiding Hope Lutheran joins Castle Pines faith community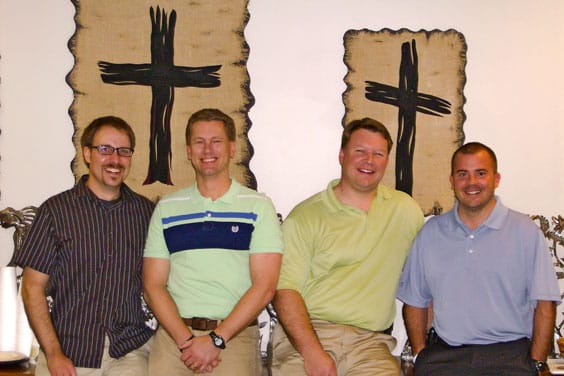 Abiding Hope pastoral team, fr
om left: Matthew L. Er
ickson, pastoral intern and Castle Pines site point person; Glenn Hecox, minister for worship and lead team member; Pastor Doug Hill, lead team pastor; and Pastor Chad Johnson, lead team pastor.
By Lisa Crockett with photo courtesy of Abiding Hope Lutheran Church
Abiding Hope Lutheran Church has a new home at the DCS Montessori School in Castle Pines. The school will be a second worship location for the church, which has a membership of 2,200 and has been in existence for nearly 25 years at its original location in Littleton.
With roughly sixty members of the church living in the area extending from Highlands Ranch south to Castle Rock, and no presence of the ELCA (Evangelical Lutheran Church in America) between Highlands Ranch and Monument Hill, the time seemed right to extend worship services to a second location.
"We decided to takea multi-site, rather than a mega-church approach," said Pastor Doug Hill, who is a member of the church's lead pastoral team. "We have separate sites for worship, but we are unified in our outreach." That outreach involves a ministry that touches people close to home and around the world.
"We do local outreach, giving money and support to the Douglas County Women's Shelter and we've also developed relationships with groups in India, Haiti and Mexico," said Pastoral Intern Matthew Erickson.
"This will be an indigenous worship community," said Erickson. "It will be unique to the Castle Pines community and we're very excited to be here."
Though the church is lead by a team who will take turns delivering Sunday sermons, Erickson will take the lead on developing the Castle Pines congregation.
"When we take turns preaching, we really get a variety of quality preaching," said Erickson.
The new congregation is offering Wednesday evening services at 6:30 p.m. during Lent only; Sunday services will begin on Easter Sunday at 9:30 a.m.
The church embraces the notion of unity: children are welcome at services, the dress code is casual and everyone in attendance at services can participate in communion.
"Our core identity and value is that God's vision is for us to be in relationship," said Erickson. "When we welcome everyone and invite them to come as they are there is a real authenticity about the experience."