An anniversary two decades in the making
August 1, 2016
/
/
Comments Off

on An anniversary two decades in the making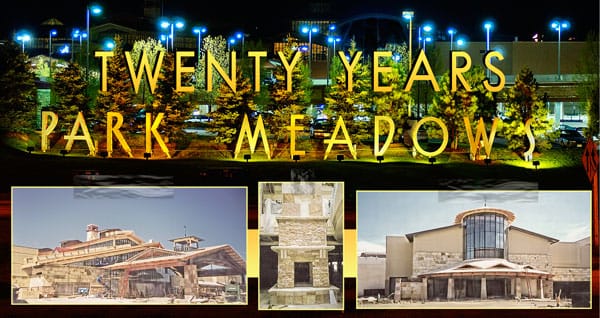 Park Meadows Retail Resort is celebrating 20 years this month. Since its inception, the shopping and dining center has undergone many changes, but it has managed to adapt and stay contemporary and relevant. The surrounding area of Douglas County has also grown and experienced significant changes, but Park Meadows has remained central to the growth and continues to be vital to the overall economy.
By Amy Shanahan; photos courtesy of Pam Schenck-Kelly
When it opened in August of 1996, Park Meadows Retail Resort forever changed the landscape of south metro Denver, and it continues to grow, flourish and remain current. The retail center is celebrating its twenty-year anniversary with a host of activities throughout the month of August that will showcase the spectacular setting and the details that make Park Meadows so much more than just a shopping mall.
Senior General Manager Pam Schenck-Kelly moved to Colorado in 1996 to open Park Meadows, and she continues to serve in her role today. During her tenure, the mall has undergone three ownership changes with General Growth Properties serving as the managing partner since 2004.
When the 1.58 million square-foot retail center opened its doors, it featured Colorado's first and largest Nordstrom and Denver's first Dillard's. With the ever-evolving line up of reatailers, the center has adapted and found ways to continually improve and stay relevant. "Our most unique and special stores are those that were primarily online retailers including Sundance, Soft Surroundings and Athleta – which is the top performing store in the country," explained Schenck-Kelly. "E-commerce accounts for only seven to eight percent of retail and there have always been multiple platforms, so we continually strive to stay in the forefront of the evolution of retail." Schenck-Kelly was excited to announce that online retailer Nespresso will also be opening a store at Park Meadows in the very near future.
Park Meadows has also done an outstanding job of bringing in first-to-market retailers such as the American Girl doll store and L.L. Bean outdoor store. Additionally, stores such as Tesla, Microsoft and Apple have kept the mall at the forefront of technology and innovation.
Park Meadows was built as a unique concept in retail. Marketed as a "retail resort," the architecture features expansive timber ceilings, impressive stone fireplaces, beautiful water features and many other distinctive attributes that evoke a true Colorado feel.
Schenck-Kelly remarked, "From the beginning, our mission was to be the only retail resort in Colorado. We brought in $1 million of commissioned art by Colorado artists and provided overstuffed chairs and other seating so people felt relaxed. Coming to Park Meadows should be experiential because the real satisfaction is in the experience itself."
Every single detail has been thought through in order to make the shopping and dining experience exceptional for the patrons. The majestic fountain located on the first floor in the center of the mall, for example, features the sounds of chirping birds while pine scents are emitted in various mall vestibules.
Park Meadows will be sponsoring a number of activities around the 20-year anniversary celebration, including its annual pancake breakfast on August 5, a street fair on August 19 and 20, a fashion show on August 27 and giveaways throughout the month. For more information about these events and to learn more about Park Meadows, visit www.ParkMeadows.com.