Annual community garage sale May 18, 19
May 1, 2012
/
/
Comments Off

on Annual community garage sale May 18, 19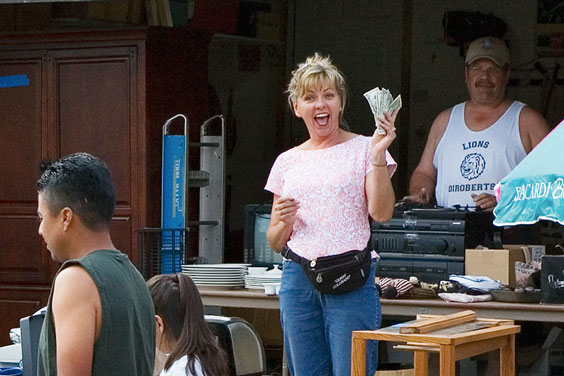 A Castle Pines resident flashes some cash she earned at a previous annual garage.


By Kathy Dunker with photo by Tim Gamble
Be sure to mark your calendar for the 22nd Annual Castle Pines North Master Association community-wide garage sale. The sale will run Friday, May 18, from 10 a.m. to 4 p.m. and Saturday, May 19, from 9 a.m. to 4 p.m. There are expected to be hundreds of sellers with thousands of items this year; are you one?
The Castle Pines North Master Association will make available to residents who are members of the association garage sale signs, an online directory of participating residences, and a website with free advertising of items. Go to www.cpnhoa.org for more information or e-mail.
Castle Pines North Association covenants allow posting of garage sale signs along Castle Pines' roads during the designated community wide garage sale only. A s a reminder, do not attach signs to fences, poles or utilities. Signs must be removed promptly following the event.
The Master Association has made arrangements with the Castle Pines Goodwill in the Safeway shopping center and they will have staff available all weekend for drop off. Be sure to check the unacceptable items list of each charity before donating.