Buffalo Ridge students accept the challenge to go green
December 1, 2014
/
/
Comments Off

on Buffalo Ridge students accept the challenge to go green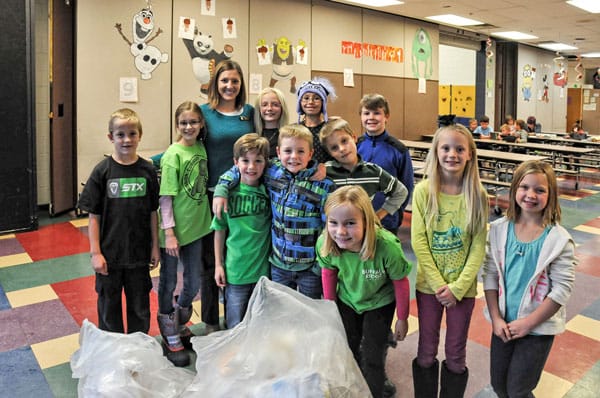 BRE's Green Team and the results of their lunch-time garbage bags plastic audit. The team created a baseline and will re-audit two more times this year with the hopes of inventory decreasing. Next up, food waste.

Article and photos by Lynne Marsala Basche
Recycling may not be something that students think about everyday, but Buffalo Ridge Elementary (BRE) school's Green Team is hoping to change that one plastic bag and fruit cup at a time. BRE is the proud recipient of a $2,000 grant from the Green Up Our Schools Program, and they are on their way to making BRE a greener community.
BRE's newly-created Green Team consists of 14 students from all grade levels. Under the leadership of Caitlin Streich, these students are tasked with educating their class, grade, and school on recycling, composting, and energy usage. With the goal of raising awareness, the Green Team is focusing on two main projects this year – a zero waste lunch campaign and energy use and reduction.
According to Streich, "Green Team is an important contribution to our school and community because we have the power to change attitudes, change consumption habits, and educate people in a way that will positively impact the world. We have the responsibility to instill appreciation and compassion for the environment into our citizens from a young age, so that good habits form and people feel empowered to make change happen. I feel it is crucial for our students to see the role they play as global citizens, and how one person can spark enormous, long-lasting change from the ground up."
BRE receives the grant over three years and will continue to increase tits recycling efforts and educate students and staff on the importance of caring about the environment. Green Team member Savannah H. agrees, "I think it is important to help the environment because you are going to grow up and probably have kids, so if we litter and don't take care of the environment, it won't be a good experience for them. Also, once we pollute the whole earth, it will be extremely hard to fix." Let's go green, BRE!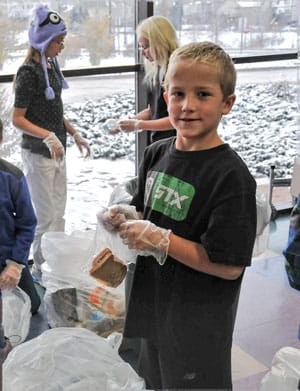 Ryan A. of the The Green Team dug through BRE's lunch-time garbage bags and pulled out plastic recyclables that were not put in recycling bins.