Careers and opportunities made real for eighth grade students
December 1, 2014
/
/
Comments Off

on Careers and opportunities made real for eighth grade students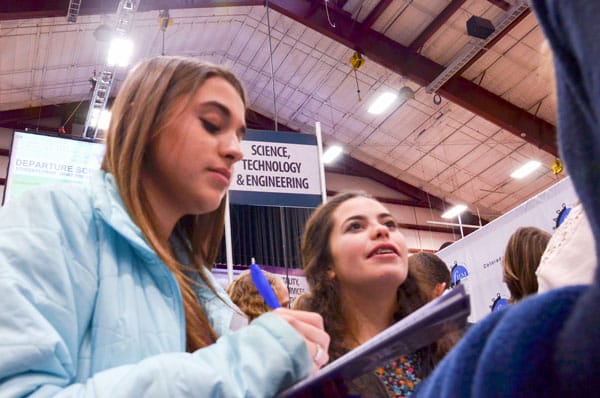 Eighth grade students from Rocky Heights Middle School had the opportunity to attend the district-sponsored Career Expo in November. Students enjoyed hearing about various careers and many came away with new ideas and dreams for their future.
Submitted by RHMS eighth grade student Cody Hyman; photos courtesy of RHMS eighth grade student Josh Harmon
Life is a tough challenge; some people succeed and some don't. What makes a person successful? What is the journey of a successful person? At Rocky Heights Middle School (RHMS), eighth grade students experienced a special event called the Career Expo that helped answer some of these questions.
Career Expo is an annual district-wide event where students go and look at all types of different careers and it lets them see what interests they may have to be successful in life. These careers have a wide span, ranging from engineering to police officers. This year the expo featured representatives from Comcast, the Douglas County Sheriff's Office, different schools, and even representatives from the U.S. Navy. More than 5,000 students from 20 different schools got to attend and look around at all the different careers and start exploring their careers for the future.
The expo was held on November 13 at the Douglas County Fairgrounds & Events Center in Castle Rock. Students were given small bags with a writing pad and paper. They used this pad for taking notes about the important things they learned from all the employers that day. They were able to ask the employers questions like, "How much does this job pay?" Or "What high school classes do I have to take to get this job?" Students really enjoyed the Career Expo; they were able to look into what they could do in the future and how to reach their goals.
After having to ride on the bus in the cold, RHMS student and Castle Pines resident Patrick Lamb said, "It was freezing outside but it was super delightful to learn about careers, so in the end it was worth it." Student Chloe Santander-Lewis said, "It was really inspiring for my future."
The eighth grade Career Expo was a great time for everyone and taught the kids some amazing lessons for their future. They can use these lessons for their futures and life in general. After the Career Expo, students had a better idea about how to take the path of success in life.