Bunco group gives back in a big way
January 1, 2016
/
/
Comments Off

on Bunco group gives back in a big way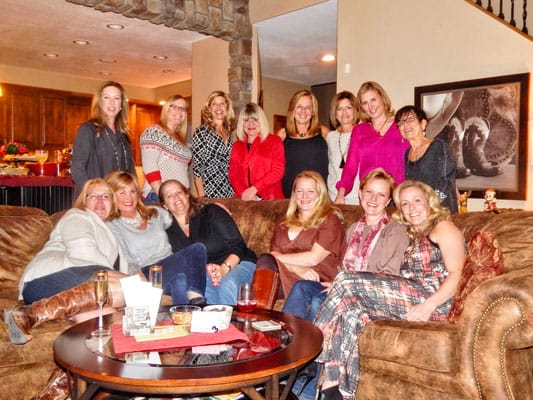 On December 9, a Castle Pines bunco group that has been meeting for more than seven years met at Lin Giampietro's house to celebrate the season, play bunco and give back. Pictured seated left to right: Lisa Bartmann, Alyda Macaluso, Alison Weiner, Alison Peery, Lauren Patterson, Angela Williams; pictured standing left to right: Diane Stavaski, Michele Loud, Lisa Adams, Angel Resatar, Lin Giampietro, Susan McCauley, Stacy Gaines, and Marylou Giampietro.

Article and photo by Lisa Nicklanovich
A group of ladies from Castle Pines and Castle Pines Village have been meeting for more than seven years to play the dice game bunco, and during the holidays they give back. Each year the group chooses an organization to support.
This year, the group chose "There With Care," a nonprofit organization that works with hospitals and social workers to identify the main stresses on a family with a loved one being treated at hospitals and medical facilities across Colorado and work within the community to take what is heavy off their plate. They provide a wide range of services to children and families in need during the critical phase of a medical crisis.
Castle Pines Village resident Cy Deboer visited the bunco group in November and talked with the ladies about There With Care, leaving with more than $700 in donations from the group.
Lin Giampietro of HOA1 said, "Cy was amazing and infectious, so very passionate. I was so taken by the whole thing."
Additionally, Lisa Bartmann, Lisa Adams and Giampietro put bins out on their porches for a week through "Bin Blessed" (see related Connection story from May 2015) to collect items for There With Care based on a needs list.
Giampietro said, "Our neighbors across the street said they wanted to help out too. The two boys, who are ages 16 and 11 took their own allowance money and went to Walmart with their mom. They chose items they thought would be fun for kids and filled the entire bin! It was incredible."
For more information about Bin Blessed, visit www.BinBlessed.com. To learn more about There With Care, visit www.ThereWithCare.org.