Castle Pines North Resident a "Lifesaver" in Douglas County
June 1, 2006
/
/
Comments Off

on Castle Pines North Resident a "Lifesaver" in Douglas County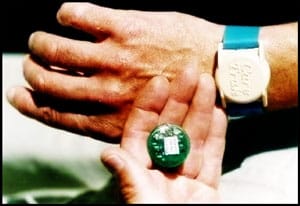 Project Lifesaver wristband and battery used by participants.

by Terri Wiebold
Castle Pines North (CPN) resident Maureen Shul, a resident of Bramble Ridge and Master Association Board President, along with Victor and Amy Mitchell of Castle Pines, are among the volunteers who have worked to make Project Lifesaver a reality in Douglas County.
Project Lifesaver is a high-tech tracking system used by law enforcement agencies nationwide to locate adults and children suffering from Alzheimer's Disease, Down's Syndrome, Autism, and other related disorders.
A person living with any of these disorders may have a propensity to wander off or get lost. Participants in the program wear a tamper-resistant wristband transmitter that emits a silent radio signal. If someone in the program is reported missing, trained personnel use tracking receivers to locate the signal and assist the individual in a timely manner, minimizing the risk of harm.
"In every single save nationwide through Project Lifesaver, the person has been found alive within an average of 24 minutes of being reported missing," said Shul, who is the project coordinator for Douglas County. "Now the question is how to get the word out to let caregivers know there is another safeguard to ease the concern of caring for an at-risk loved one," Shul said.
On April 18, the Board of County Commissioners for Douglas County adopted a resolution to officially start the program. The Mitchells donated $6,000, initial funding for the program. Shul said she, "will forever be grateful to Victor and his wife for stepping up to fund this effort out of their own pockets."
The Castle Rock Senior Center has also donated $1,000, and the Douglas County Sheriff's Office (DCSO) recently received the Phillip Miller Foundation Grant for $10,000 to be used for funding Project Lifesaver.
"This money is really going ensure the success of the program," said Community Relations Officer for the DCSO, Deputy Ron Hanavan. Hanavan pursued the grant for DCSO.
For more information about Project Lifesaver or to request an application, contact Deputy Hanavan at 303-814-7089. Anyone interested in making a financial contribution can contact Valerie Robson, Manager of Douglas County Adult Services at 303-660-7378, ext. 4.
"The ball is now rolling," said Shul. "We just need to keep it in motion!"