City Celebrates Its First Independence Day
August 1, 2008
/
/
Comments Off

on City Celebrates Its First Independence Day
Kids get a break from the heat with a spray from South Metro Fire Rescue during the July 5 celebration.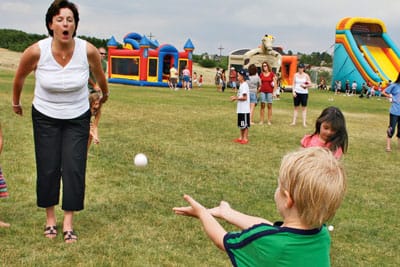 A youngster anticipates the egg being tossed his way during the egg toss event.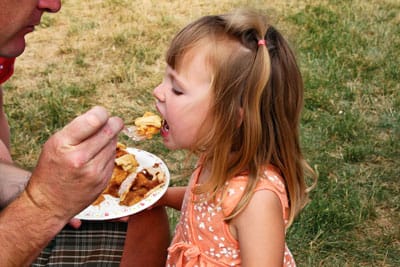 Campbell D. takes a bite of pie during the pie tasting contest.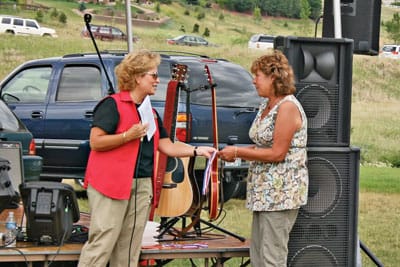 Best Pie Winner Pam Dolan is congratulated by Mayor Maureen Shul at the city's first Independence Day celebration. Dolan baked a traditional apple pie.


Article and photos by Elean Gersack
A celebration full of red, white and blue and colossal glory came to Castle Pines North (CPN) on Saturday, July 5. It was the first ever Independence Day celebration for the new city.
The old-fashioned fun began with activities for the whole family. There were three-legged races, egg tosses, egg and spoon relays and sack races. Kids jumped in bouncy castles and raced down a giant slide. Then came the water spray from South Metro Fire District and the make-your-own snow cones.
Mayor Maureen Shul welcomed the crowd and was notably in awe of the historic celebration at hand. "I don't know if we will ever have a more meaningful Fourth of July celebration as this – our first as a new city," said Shul.
Russ Stutzman from Solid Life Christian Center (SLCC) performed the invocation, followed by the Pledge of Allegiance led by Boy Scouts Daniel Deschane, Lucas Palazzo, and Sam Martin of Pack 826. Alex Farias of SLCC sang the National Anthem.
The mayor then graciously recognized several CPN residents with Volunteer Appreciation Awards for their enormous volunteer contributions to CPN. Recognized were John Kenny, Eva Mitchell, Dick Lichtenheld, Jeff Tomzcak, and Carol Langley-Finnegan.
Special guest speaker was Mr. John Pellegren, a resident of CPN and World War II veteran. Mr. Pellegren spoke of his experiences on Omaha Beach on D-Day, and his reflections on "freedom isn't free".
Several residents took part in the fruit pie-baking contest. City council members had the honor of tasting the pies and had the difficult decision of selecting a favorite. First-place winner, Pam Dolan, baked a simple, traditional apple pie that was "out-of-this-world good." Second-place winner, Emily Warren, a local teen who practiced her recipe all week long, baked a blueberry and strawberry pie topped with whipped cream and called it Liberty's Pride. Third-place was awarded to Gwen Dooley who submitted a last minute entry, a delicious strawberry-rhubarb pie. Finally, fourth-place went to Janice Burke who baked a delightful peach pie.
After the introductions and awards were complete, residents of the new city kicked back to hear tunes from Matt Buckstein and the Hired Guns. The country sounds of this former American Idol contestant and his band pleased the crowd for hours.
Throughout the afternoon and evening, SLCC's youth ministry, UTURN, sold concessions to raise money for an upcoming trip to help flood victims in Cedar Rapids.
Several sponsors made the Old-Fashioned Fourth of July celebration possible – The City of Castle Pines North, Castle Pines North Master Association, Hidden Pointe HOA, Solid Life Christian Center, HF Holdings, LLC, and Icenogle, Norton, Smith, Blieszner, Gilida & Pogue, PC.