Coyotes an increasing problem in Castle Pines North
February 1, 2010
/
/
Comments Off

on Coyotes an increasing problem in Castle Pines North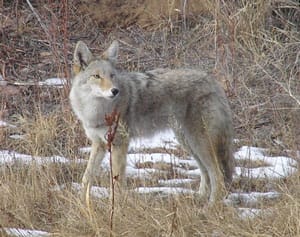 by Anthonette Klinkerman
Several residents of Castle Pines North have lost beloved pets to coyotes. A pack of coyotes in the vicinity has made the press before, but two particularly bold coyotes have snatched small dogs during daylight hours while helpless owners stood nearby.
"We were shocked as it happened so quickly," said Chris Delig who lost a dog to an aggressive coyote in December. "The emotions run deep when you see something like that happen right in front of you."
People and animals have always coexisted with some tensions. Habitat destruction due to human construction causes more and more incidents of tension, and the problems seem to be getting worse.
Wildlife experts from the Colorado Division of Wildlife (CDW) held a meeting in CPN the first week of January to address the coyote problem. Crystal Chick, officer from the CDW, gave a PowerPoint presentation to educate the audience about how to more peacefully deal with native predators. However, the residents in attendance who lost pets to the nuisance canines wanted something more done.
"We don't want the coyotes killed," said Delig. "We just want some steps to be taken to ensure the safety of other people's pets and children."
The coyotes in question seem to have lost their fear of humans, or become "habituated" as is the choice word of the CDW. They seem more brazen and aware that where there are people there is food. According to Chick, a coyote will not be destroyed by the CDW unless it attacks a human being.
Delig said he is used to seeing wildlife in the area, and was aware of a red fox living somewhere near his yard. However, the fox has disappeared, and Delig has found larger coyote prints right up to the foundation of his home.
"Coyotes can't just be relocated as they simply become a problem somewhere else," stated Deliq. "One or two here have become the main problem."
At the writing of this article in January, a jack russell terrier belonging to another resident was snatched from its pen by a female coyote in the early morning hours.
Greenwood Village made the news not long ago because of its problem with coyotes. One had attacked a young boy on a golf course, prompting the city to look into what could be done.
According to Delig, each city has to determine its own plan for coping with wildlife. As of press time, CPN was waiting the swearing in of new mayor Jeffery Huff, though Mayor Huff did say the problem was going to be among the first issues to be addressed.