CPN Metro District acquires invaluable senior water rights
June 1, 2009
/
/
Comments Off

on CPN Metro District acquires invaluable senior water rights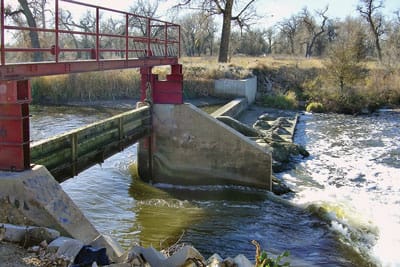 Platte River at the exact point where the Platteville Ditch diverts from the Platte River.

by Lane Roberts
During the past four years, Castle Pines North Metro District has been crafting numerous plans to secure renewable water for Castle Pines North (CPN).
Now, for the first time, the Metro District has acquired senior water rights to help secure future water supplies for CPN.
In 2005, the Metro District launched a comprehensive integrated water resources plan (IWRP.) The IWRP included a detailed analysis on current non-renewable ground water supplies, suggestions on where to store future water, and ideas on how to transport water.
It also included another key component – the need to acquire future renewable water.
In aquifer-dependent Douglas County, competing for water rights has become quite a task. In fact, cities and towns throughout Colorado are competing for water to meet their demands as the non-renewable aquifer levels continue to decline.
In May, the Metro District secured senior water rights on the South Platte River, between Brighton and Greeley. The water rights obtained are from the Fulton Ditch and the Platteville Ditch, and will generate approximately 450 acre-feet of water per year.
McGrady says the Metro District currently uses an average of 1,800 acre-feet of water per year. The acquisition of this water will meet approximately 25 percent of the Metro District's annual demand. With the water also comes 270 acres of land, including mineral rights, and oil and gas royalties.
"These are extremely senior water rights that have never been called out, even in a severe drought like 2002," said McGrady. The water rights acquired date back to 1862 and 1865.
McGrady says the water is also located in the vicinity of major pipeline projects that are currently underway including the East Cherry Creek Valley and the Aurora Prairie Waters project.
When can CPN expect to use this water?
It will be five years or more to decree the water for use in CPN. McGrady says that corresponds with the completion of the Rueter Hess Reservoir and several other water delivery projects the Metro District is participating in.
"This is an important step in meeting our renewable water issues. We have established where to store it and now have begun to fill the bucket," said Bill Santos, Metro District board president and CPN resident.
At a recent Metro District board meeting, City Council representative Ron Clark applauded the group for their efforts. "I want to thank Jim [McGrady] for his dedication to the community," said Clark. "I hope you go after more of these, because I want us to have water iron clad."
How did the Metro District pay for the water rights?
According to McGrady, the District paid cash for the water acquired. "Given the fact that we have passed a reimbursement resolution, the District can be reimbursed from the sale of bonds," he said. "It is the District's intent to issue Certificates of Participation the week of May 25 that will be sufficient to reimburse the District for their [water] purchase."
The Metro District also recently received a Double A (AA) bond rating from Standard and Poors.
"This is the third highest bond rating a company can obtain," said McGrady. "Clearly this is a significant upgrade to the District's previous bond rating. It is hoped that this rating can be used to obtain more favorable interest rates from lenders going forward which will translate into reduced utility costs to our customers. The bottom line is we should all be very proud of this rating, especially given the fact that most rating agencies are being very conservative given the economic downturn we as a country are facing."
According to McGrady, the Metro District is in the process of acquiring another 500-acre feet of water from the same area.
"This is an exciting time for Castle Pines North," said Metro District Manager James McGrady. "This is the first time we've actually acquired renewable water for the community. Our future water supply is finally coming to fruition."
Contact Metro District Manager James McGrady at contact by e-mail or visit their web site at www.cpnmd.org.
Editor's Note: An acre-foot of water is defined as water that covers one acre of water, one foot deep and provides water for two families for one year. One acre foot of water equals about 325,851 gallons of water.