CPN's Safety Task Force Hard at Work
August 1, 2008
/
/
Comments Off

on CPN's Safety Task Force Hard at Work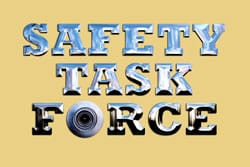 by Terri Wiebold
The City of Castle Pines North (CPN) Safety Task Force has jumped right into action, working diligently on areas of safety concern for the City.
Committee members have been working with HOAs to establish "USA on Watch" (formerly Neighborhood Watch) programs and organizing block captains for the program. Ultimately, the committee would like to see representatives from every neighborhood in CPN represented.
An area of heightened concern for the task force during the outdoor summer months has been the issue of living with wildlife. This committee is encouraging residents to send notification via e-mail to safety@cpnhoa.org of incidents involving wildlife. The committee will assist in communicating the information to residents and will be a liaison between the community and the Department of Wildlife. Reports of coyotes and rattlesnakes have been frequent in the past few months.
Wildfire continues to be a concern, especially during these hot, dry months. Representatives are working with Douglas County and the new Joint Fire Authority to establish guidelines for mitigating fire danger in the CPN community. Dry scrub oak and dead pine trees from pine beetle infestations are issues of concern. Visit
http://www.cpnhoa.org/pages/news/articles/2008/qtr3/beetles.htm for an extensive report on the pine beetle epidemic in Colorado and what residents can do to help treat and protect the precious trees in CPN.
Roads and traffic remain a top priority for the task force, especially speeding in residential areas of the community, in crosswalks, and near schools.
Additional volunteers are still needed to serve on the various Safety Task Force committees. Anyone interested can contact the committee chairperson, Carol Langley-Finnegan, at Contact by email .
The next task force meeting is scheduled for Wednesday, August 13 from 3 p.m. to 5 p.m. at the CPN Community Center, located at 7404 Yorkshire Drive. Please make safety in CPN a priority and attend this important meeting.