December 1, 2022
/
/
Comments Off

on Deputy Bozarth has HEART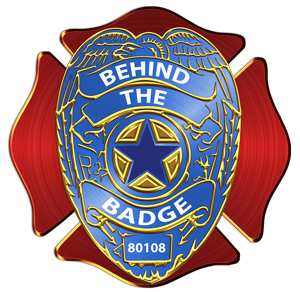 Tammy Bozarth spent her childhood at the police station. So, it's fitting that she chose a career in law enforcement.
"When my sisters went to school, I went to the Manitou Springs Police Department with my mom," Bozarth remembered. "When she hit the streets, I played at the station until the end of her shift."
In addition to her mother, Bozarth's grandfather was a policeman and her two older sisters eventually joined the force.
When the Bozarth sisters were teens, they all participated in the Explorer Program in Colorado Springs, a program offering classes and field trips to introduce 14 to18 year olds to law enforcement duties and responsibilities.
"The Explorer Program taught us what police officers do," recalled Bozarth. "We attended weekly training and got to ride along with officers; I loved every minute of being in that police car." She knew then that she wanted to eventually follow in the family's career path, but it wasn't in the cards just yet.
In 2002, Bozarth moved to Douglas County and worked for an auto finance company for a few years, but lost her job when the company closed its Colorado offices.
"I felt this was a sign from God that it was time for me to answer my calling to be a police officer," Bozarth said. She acted quickly, and within a few months, had graduated from the Highlands Ranch Public Safety Training Institute, earning a Peace Officer Standards and Training certificate. Bozarth launched her police career with the Castle Rock Police Department (CRPD).
In the decade she worked for CRPD, Bozarth was a field training officer, arrest control instructor, taser instructor, ethics instructor, and a member of the bike and traffic unit. Eventually, she moved on to the Douglas County Sheriff's Office (DCSO).
Bozarth worked in many of the same units within DCSO as she did for CRPD but was ultimately asked to do more. She was selected for mounted patrol, where she trained and certified two horses for duty, a mustang "Pitch" and a quarter horse "Wyatt."
Six months ago, Bozarth was asked to assist in the creation and implementation of the DCSO's homeless outreach program: HEART (Homeless, Engagement, Assistance and Resource Team). Working closely with chief Kevin Duffy and lieutenant Alan Stanton, Bozarth helped develop the guidelines for interacting and assisting homeless individuals in the community. The HEART team includes three civilian navigators.
The most common calls are from citizens regarding homeless encampments or individuals trespassing on their property. The HEART team responds and assists with resources based on the homeless person's needs, including "transportation to shelters, hotels, bus stops, light rail, food banks, and other resource locations," Bozarth said.
Bozarth is optimistic about the HEART unit. She said its success is partially based on the caring nature of the team. "All that are involved have big hearts and truly care about helping people," she added.
Bozarth's personal life has also been rewarding. Her husband, Troy, is also a DCSO deputy, and Bozarth was granted guardianship of her grandnephew when he was a newborn. Today, a decade later, he is thriving.
"My family and I enjoy camping and hiking; I love doing anything outdoors," said Bozarth. She recently earned her 100-mile challenge coin for hiking in Castlewood Canyon State Park. In addition to her active lifestyle, Bozarth enjoys reading, gardening, baking and cheering on the Colorado Avalanche.
By Celeste McNeil; photos courtesy of Tammy Bozarth