Elementary school artist wins school district art award
April 1, 2011
/
/
Comments Off

on Elementary school artist wins school district art award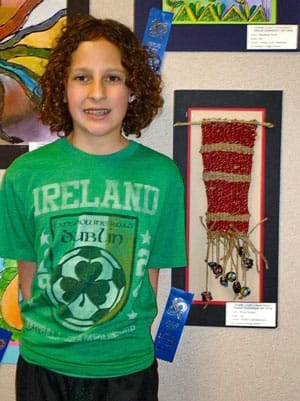 Fourth grader Megan Hassler stands with her weaving project, which earned her top honors from the Douglas County School District.

by Lisa Crockett photo courtesy of the Hassler Family
Some girls dream of being princesses. For nine-year-old Megan Hassler, channeling royalty is more than a plastic crown and faux jewels – it's the inspiration behind her award-winning art. This month, Megan will be recognized by Douglas County School District and will receive a gift card from Air Academy Federal Credit Union for a weaving she displayed at a recent student art show held at Park Meadows Mall.
"My weaving is made of jute thread that is red, yellow and green. I think these colors look royal, like the way a carriage for a king or a queen would look," said Hassler. "That's what I thought of while I was making it."
Hassler has always loved art, saying it's a good way to express her feelings. In addition to weaving, Hassler also likes pottery and sculpture. "I like art because it is fun and beautiful," said Hassler.