November 1, 2012
/
/
Comments Off

on Fall shenanigans at DCSM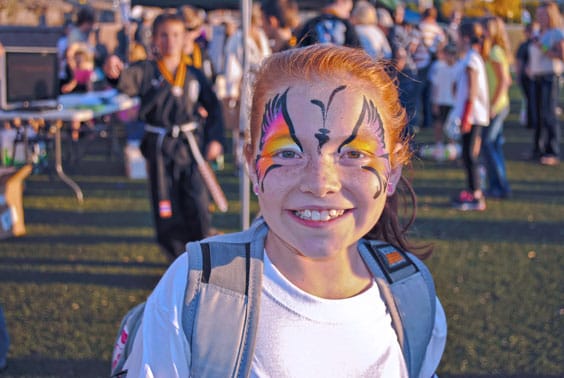 DCSM fourth grader, Syndey Glasser, indulged in a little face painting as part of the fun school event.
By Jodi Anderson; photos courtesy of DCSM
What do you get when you mix energetic kids, fun and creative activities, and exciting performances? You get the rip-roaring Fall Festival at DCS Montessori (DCSM)! Top all of this off with perfect weather and a polychromatic sunset as a background and folks in Castle Pines will understand the crowd and laughter at the school as they drove by on September 28.
A mixture of booths, food, live performances, and blow-up bouncy house activities were the agenda for the day. For several years, DCSM has celebrated fall and the new school year with this evening of fun and frivolity with the community. After several years of holding this event, it is always much anticipated.
Some of the performers highlighted were Canyon Critters, DCSM Dance Team, Han Lee Taekwondo Demo, Space/Time Presentation, Dancing Robots and Cowboy Steve. Audience participation was high and comical with Cowboy Steve. The booths students, parents, teachers, and community members could visit included carnival games, face painting, bounce houses, and a magician.
A special thank you to DCSM community sponsors: Kelly Burns State Farm Insurance, Optical Matters, 1st Bank, RHG Products Company, Brandon Linn Orthodontics, Qual Corr, and Castle Pines Jewelers for helping to make this event so memorable. Please visit the DCSM website at www.DCSMontessori.org for more information and pictures of this special event.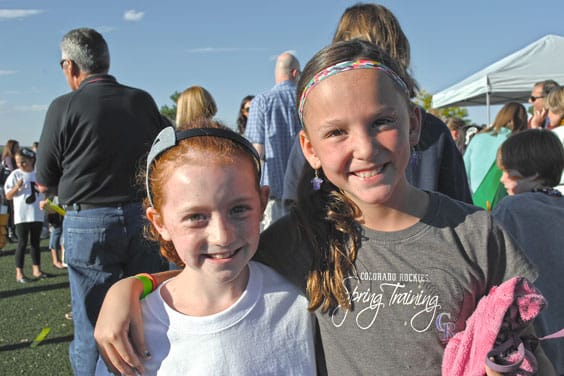 Friends Tatum Louthan (left) and Faith Bush (right) enjoyed the fun festivities at the DCSM Fall Festival on September 28.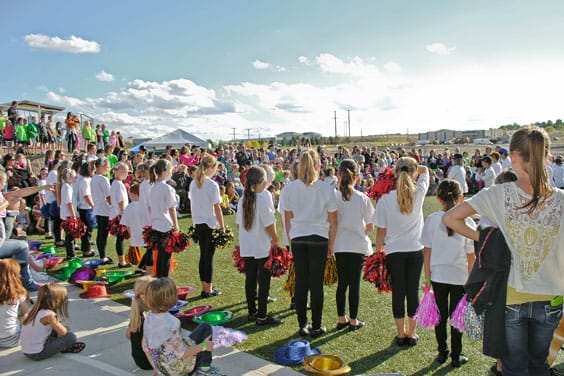 The crowd anticipates a performance from the DCSM Dance Team, which is always a highlight at the DCSM annual celebration.