Family-owned food delivery business ready to serve in Castle Pines
November 1, 2014
/
/
Comments Off

on Family-owned food delivery business ready to serve in Castle Pines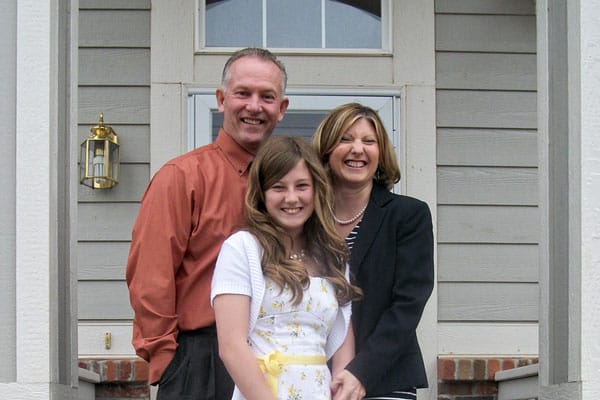 We Deliver is a family-owned restaurant food delivery service now available in the Castle Pines and Castle Rock area. We Deliver owners Rob Bryant, wife Beth, and daughter Stephanie (center) at their home in Parker.
By Elizabeth Wood West; photo courtesy of Rob Bryant
Rob Bryant, wife Beth, and daughter Stephanie have launched an independent restaurant food delivery business in the Castle Pines and Castle Rock area called "We Deliver." The Bryant's new service delivers food (including catering orders) from a variety of restaurants – including fast food to fine dining – to homes, businesses, schools, hospitals, and hotels.
Bryant said, "We started our business in Highlands Ranch in August and have expanded to Castle Pines, Castle Rock, and Lone Tree. It's a much-needed service for residents and businesses. People love the variety of restaurants that we can deliver for."
Bryant and his family moved to Douglas County in 1993 because of a job opportunity. "Douglas County is Colorado's greatest county – close to Denver, Colorado Springs, and the Tech Center, and [it has] fantastic schools," Bryant said.
The Bryants share in the day-to-day responsibilities. Rob handles menu design, dispatching and deliveries, and partner restaurant sign-ups; Beth handles dispatching and deliveries; and Stephanie handles dispatching, menu inputs, and flyer distributions.
To order a meal for delivery, a customer contacts We Deliver, either by phone or by visiting the website, and places their food order.
We Deliver will let the customer know when their order will be ready from the restaurant and give an approximate delivery time. We Deliver then places the customer's food order with the restaurant and pays the customer's bill ahead of time. When the food order is delivered, We Deliver collects payment (credit card or cash) from the customer.
Some of the Castle Pines restaurants participating in We Deliver's food service include Duke's Steakhouse, Golden Flame Hot Wings, La Dolce Vita, Las Fajitas, Little Italy Pizza, Taco Bell, and Wendy's. Participating Castle Rock restaurants include Black-Eyed Pea, Chili's, Chipotle, Crave Gourmet Burgers, Noodles, Outback, Red Robin, South Garden, and others.
Delivery service charges are $8 for independently-owned restaurants and $10 for corporately-owned (chain) restaurants; Bryant frequently offers $2 discount coupons, bringing the service charges down to $6 and $8 respectively per trip. Bryant said they will also be offering a grocery delivery service soon.
We Deliver is open seven days a week for lunch and dinner service, from 11 a.m. to 8:30 p.m. For further information, call Rob Bryant at 303-775-0611 or visit www.wedelivercastle.com.