Fraud prevention from the experts
May 1, 2014
/
/
Comments Off

on Fraud prevention from the experts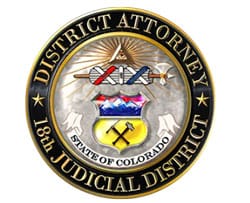 Information provided by the 18th Judicial District Attorney's Office
In response to an increase in population of individuals age 60 and older, the 18th Judicial District Attorney's Office will host the second annual Fraud Prevention and Safety Summit on May 15 at the Parker Arts, Culture and Events Center (PACE), located at 20000 Pikes Peak Avenue in Parker.
According to the U.S. Census, between 2000 and 2010, the population age 60 and older increased 194 percent in Douglas County. That was the highest growth rate of all counties in the United States.
"Far too often, fraudsters will attempt to scheme our most vulnerable communities out of their life savings and good financial standings – all for what these criminals perceive as an easy buck," said District Attorney George Brauchler. "This event will arm attendees with the knowledge and tools to fight back against these types of crooks, who are often both relentless and deceiving in their pursuit of someone else's hard-earned money. The only way to stop them is to be able to identify them the moment they begin to lure you in."
This one-day, no-cost event will empower older adults with the tools and information they need to avoid fraud before it happens. It will feature the region's foremost community partners and experts in fraud prevention, safe investment education, and cyber-crime/identity theft protection.
Participants will gain a clearer understanding of how to recognize potential fraud and ID theft, and also learn fraud prevention strategies and how to safeguard sensitive information. Attendees will have an opportunity to talk one-on-one with fraud prevention experts and community agencies.
Check-in begins at 7:30 a.m. and the event will run from 8 a.m. until 1 p.m. The registration deadline is May 7. Free parking is available and complimentary goodies, lunch, and door prizes will be provided.
Register by calling 1-877-926-8300 or visit http://aarp.cvent.com/d/v4q26x.