Fresh, homemade donuts are now closer to home
February 1, 2013
/
/
Comments Off

on Fresh, homemade donuts are now closer to home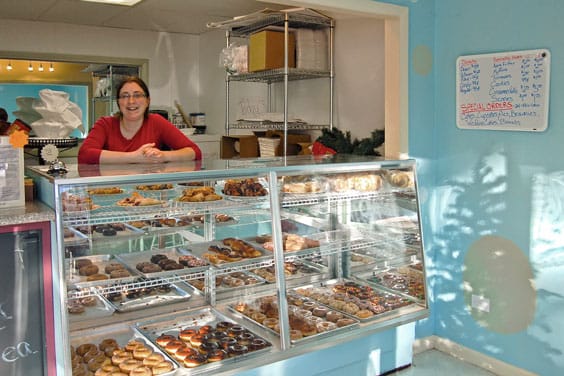 The pastry case at The Cakery in downtown Castle Rock is close to home and full of wonderful, homemade donuts and other tasty treats thanks to owner Tiffany Johnson.
Article and photo by Amy Shanahan
If you are a fan of freshly-made donuts, you need to make a stop at The Cakery in downtown Castle Rock. Owner Tiffany Johnson mixes, proofs, and fries the donuts each morning in her store before topping them with delicious homemade icings. Her pastry case is full of a wide variety of cakes and raised donuts, as well as filled donuts, homemade cinnamon rolls, fritters, muffins, turnovers, and cookies. Johnson remarked, "I love when kids come in and their eyes light up at all of the choices that are in the case before them!"
Johnson opened her shop a year ago and will celebrate the shop's one year anniversary on February 13. Johnson prides herself on the quality and deliciousness of each of her products, and begins her day between 1:30 a.m. and 3:00 a.m., in order to have the freshest products available for her customers. Johnson has always had a passion for baking and making desserts, and the opportunity to own her own bakery and donut shop was made to order for her.
The shop has a dedicated following of customers who have spread the word about the wonderful donut shop on Wilcox. Some pick up donuts for co-workers on the way to work, others are moms who give their children a treat on the way to school, and still others enjoy bringing home a dozen donuts to their family.
In addition to donuts and pastries, Johnson bakes and creates amazing custom cakes for weddings, birthdays and other occasions. Johnson's cakes and frostings are also all homemade, and she loves to create beautiful works of art for her cake customers.
Johnson truly enjoys being a part of the Castle Rock community. "One of the best things about owning my donut shop is the interaction I get with the community that I wouldn't have otherwise. I meet a lot of interesting people," remarked Johnson. "I also love that I am showing my daughters that you can accomplish anything if you put your mind to it, and follow up with a lot of hard work and dedication."
The Cakery is located in downtown Castle Rock at 703 N. Wilcox, Unit E. It is open Wednesday through Sunday from 6:30 a.m. to 1:30 p.m. Check out www.thecakeryllc.com or find them on Facebook at www.facebook.com/TheCakeryLlc or call 720-556-1975.