Join the statewide movement to increase philanthropy, and give where you live
December 1, 2017
/
/
Comments Off

on Join the statewide movement to increase philanthropy, and give where you live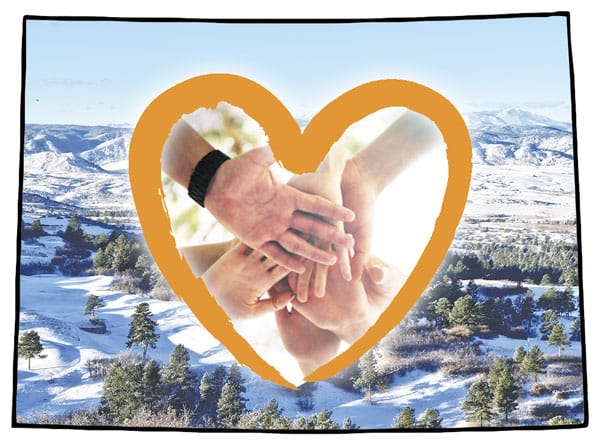 By Lynne Marsala Basche
For the past eight years, the Community First Foundation and FirstBank have teamed up to promote online giving and philanthropy in Colorado. Colorado Gives Day, which begins at 12 a.m. on December 5, is targeted to increase donations to local nonprofit organizations. On this one day, people throughout Colorado are encouraged to participate and give where they live.
The Community First Foundation's online giving program runs through www.coloradogives.org, which is a year-round giving website. While people can donate to more than 2,000 Colorado nonprofits any time of the year, Colorado Gives Day was created for people to get energized and come together to inspire others to support local charities on one given day. Also, the Community First Foundation and FirstBank contributed to create the $1 Million Incentive Fund, which proportionally allocates money across all charitable donations received December 5.
For the Douglas County community, Colorado Gives Day is an easy way to support favorite organizations within Douglas County and the state. In 2016, Douglas County nonprofits raised $813,526 from 2,018 donors, and this year's goal is to increase the number of donations by 15 percent.
Douglas County is home to numerous charities that work in a variety of areas, including animal wellness, arts, advocacy for those with special needs, education, land and wildlife conservation, youth and adult health and welfare, and so much more. By supporting a Douglas County nonprofit, contributors are ensuring that their donations stay within the community. Whether contributors want to support a favorite local nonprofit or find a new organization to help, www.coloradogives.org provides an overview, mission statement, list of upcoming events and financial information about each participating organization.
"Supporting our local nonprofits is such important work, as it enables us to take care of our own needs in Douglas County," said Susan Squyer, board vice chairman of the Douglas County Community Foundation, which partnered with Douglas County Gives to increase the awareness and support of charitable organizations located in Douglas County. "Most funding agencies in the metro area typically overlook Douglas County because of our high wealth ranking. We certainly understand that it is on all of us to be proactive and use opportunities like Colorado Gives Day to ask DC residents to help out DC nonprofits and the work that they do locally."
This year, kids have a fun way to get involved – Kids for Colorado Gives. Junior philanthropists are introduced to charitable giving as they learn about different organizations. Kids can even take a fun quiz, "What kind of giver are you?" By answering nine questions with colorful pictures and text, kids find out what type of nonprofit corresponds to their interests. Visit www.coloradogives.org/kidsfor to learn more.
The minimum donation amount is $10, and tax-deductible contributions can be made using electronic checks and all major credit cards. Company matching gift programs can also be tied to contributions. Donate in honor of someone and send them an eCard to commemorate the gift. Contributions can be scheduled ahead of time to be sure to remember the event and to make it as simple as possible to participate.
Douglas County is not only a welcoming community, but it is also a giving community. Support Colorado Gives Day, and be sure to give where you live on December 5.