Lessons in budgeting and benevolence
January 1, 2019
/
/
Comments Off

on Lessons in budgeting and benevolence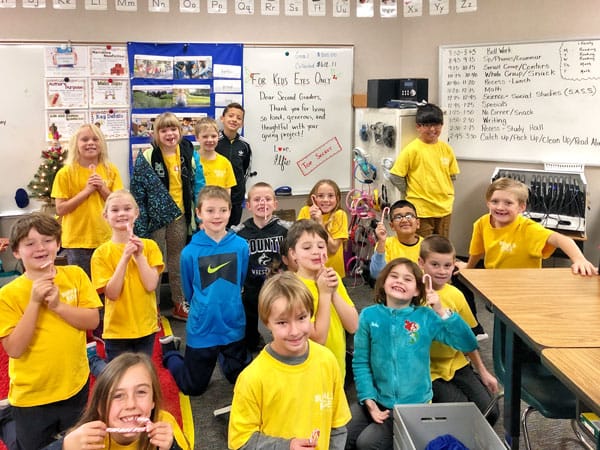 By Terri Wiebold; photos courtesy of Buffalo Ridge Elementary and Jennifer Chiu
Although they may not have ever heard the word before, second-grade students at Buffalo Ridge Elementary (BRE) gained a first-hand understanding of benevolence through the school's annual Adopt a Family pay it forward project.
Recently having completed their community unit and heading into their financial literacy unit, the second-grade students took on "jobs" at home and in the classroom for three to four weeks to earn money that would be used to purchase holiday gifts for families less fortunate. In a partnership with Catholic Charities, the students first learned about the three families they would be providing for, picking families with similar age children to themselves. They differentiated the "wants" versus "needs" of the families and then created a list of potential purchases. They researched pricing and availability online and set a fundraising goal.
After they completed the jobs and raised the money, the students accounted for their earnings and planned out their big shopping spree. With the help of parent volunteers and each classroom teacher, the entire second grade boarded a bus to Target to purchase the gifts. Finally, the students wrapped the presents and Catholic Charities delivered them to the families.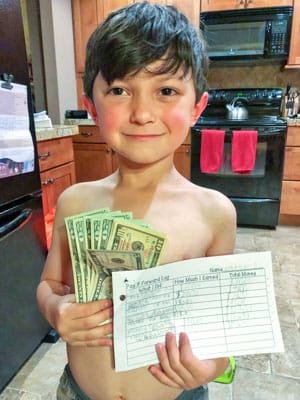 Jennifer Chiu, a staff member at BRE and mother to second-grade student Damon (above), said the experience was amazing and valuable. "It taught my son about being thankful for what he has, to work hard for a good cause and to be generous to those without," she said.
The Chiu family took the project a step further and reached out via social media to friends and family not in the immediate area for participation. When someone would agree to "hire" Damon for a job (he did laundry, emptied the dishwasher, vacuumed, shoveled snow and cleaned bathrooms), Jennifer would take a picture of him completing the job and post it. According to Jennifer, this helped to raise more money and Damon got more out of the experience. "He really got into it and he took pride in the work he was doing, knowing it was for a good cause." Damon individually earned $155 toward the grand total of roughly $1,500 raised by the second grade to purchase the gifts.
"My favorite part of the pay it forward activity was helping people to have a good holiday," remarked Damon. "As a parent," continued Jennifer, "I loved this project and only wish my middle school daughters had had the same experience."