January 1, 2018
/
/
Comments Off

on Living with Lyme disease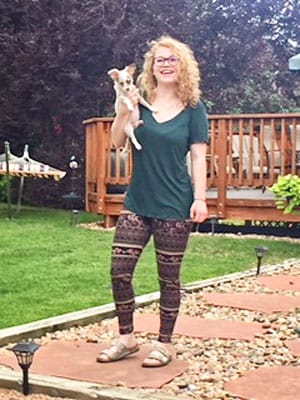 Brooke Boyles credits her dog Phoebe with helping her manage the day-to-day challenges of Lyme disease.
By Lynne Marsala Basche; photos courtesy of the Boyles family
When Brooke Boyles was six years old and her family was living in Texas, she noticed a spider bite with a bull's eye around it on her right knee. Boyles began a round of antibiotics, but afterward, she started getting migraines and stomach pains and was diagnosed with abdominal migraines. At the age of 12, after the family moved to Castle Pines, a cat scratched Boyles on her hand, and shortly after that, she began having severe nerve pain in both feet and legs, in addition to her already-existing aches.
Since the initial bite, Boyles has seen more than 20 specialists and received countless tests (including several negative tests for Lyme) and procedures, medications and diagnoses. In February 2016, a 22-year-old Boyles saw a specialist in California, who diagnosed her with Lyme and Bartonella diseases. (Bartonella disease is also known as "Cat Scratch Fever".)
Lyme disease is caused by a bacteria and is traditionally believed to be transmitted to humans through a bite from an infected deer tick. However, any biting insect, such as mosquitos, horse flies, spiders and fleas, may also carry the disease. Symptoms can occur between three and 30 days after the bite and are widespread, including fatigue, joint pain, headaches, mood changes and flu-like signs.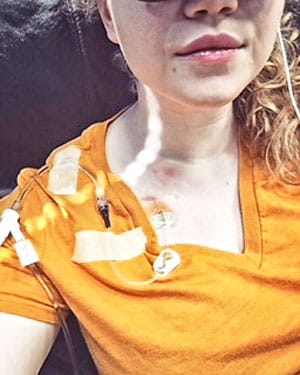 As part of her treatment regime, Boyles receives regular IV infusions.
While Lyme disease can be cured, Boyles notes it is a difficult journey. Her current treatment plan includes receiving weekly intravenous (IV) infusions through a port along with taking supplements and pain medications. Boyles also manages pain daily through a Healthlight Infrared LED pad. Boyles has traveled for treatments and to see specialists in Denver, California and Texas. (While in Texas this past August and September, Boyles and her mother had to seek shelter with friends during Hurricane Harvey for approximately 10 days.) In January, Boyles will have a stem cell therapy IV infusion treatment.
Boyles has a passion for art and draws and paints although not as often as she would like. Unable to continue college at the University of Northern Colorado in Greeley, Boyles began taking online classes at the Art Institute, but managing deadlines and the demands of school with constant pain has been challenging.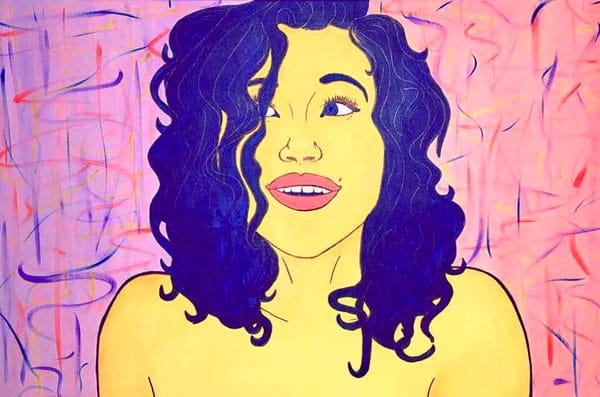 With a passion for art, Boyles created Logical Romantic No. 10 in a series of self portraits. (Logical Romantic is Boyles' brand for her art work.)
When asked what she would like readers to know about Lyme disease, Boyles explained, "It's real. It's a lot harder to go through than it looks. Lyme is an invisible illness that people need to take seriously."
A Lyme prognosis is unique for each diagnosed person, and Boyles' doctors and nurses remain encouraged for her recovery. While Boyles spends each day focused on her health, treatments and managing pain, she does so with a special canine companion, Phoebe. With the love of her family and, of course, snuggles from Phoebe, Boyles will continue to tackle Lyme disease until it is no longer a constant force in her life.